Community Supported Agriculture has many benefits. One of the most fun is opening up your box to see what's inside. It's not a surprise because I get a list of the items about three days prior. Still, last-minute changes can happen. Plus reading a list is not the same as opening up a box of beautiful, fresh produce.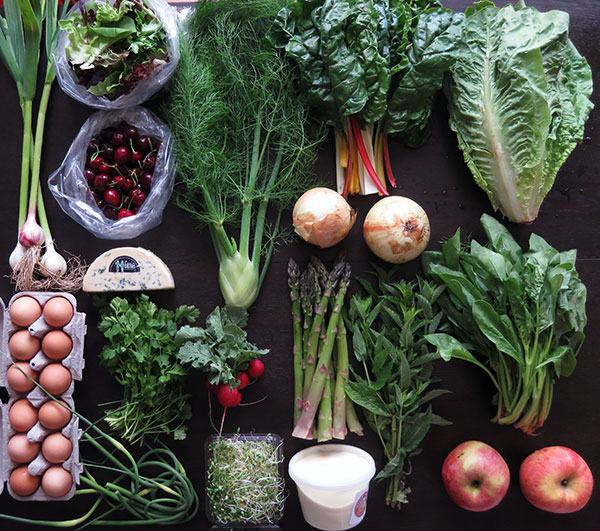 Week 1 of the Family-size CSA box from Growing Washington. Top half (left to right): green garlic, mild & tender salad mix, Burlat cherries, fennel, rainbow chard, yellow onions, and Romaine lettuce. Bottom half: cilantro, garlic scapes, red radishes, clover sprouts, asparagus, mint, spinach, and Gala apples. Also shown: pastured eggs, handmade yogurt from Silver Springs Creamery, and Whatcom Blue cheese from Twin Sisters Creamery. These add-ons are available as full-season shares or weekly purchases.
Getting Started
The most important first step after opening the box is storing all the produce. It's easy to make many items last for the whole week, and all of them for at least a couple days. But only if you take the time to store everything the right way:
Do not wash produce before storing. Separate all root vegetables from their greens. Most vegetables keep best in the fridge. I wrap them in paper or cloth towels and place them inside plastic produce bags. Towels are especially important when storing damp produce because they absorb excess water. I store most fruit in plastic bags as well, except for fragile berries which I spread out in a single layer.

Check the humidity settings on your vegetable crispers. I use one bin for fruit (low humidity) and the other for vegetables (high humidity). But often times I have a lot of vegetables and end up filling both crispers with them. In that case, I store any ripe fruit on the bottom shelf of the fridge. Leave unripe fruit at room temperature to ripen.
First Meal
At least during summer, the first meal after picking up the box is a big dinner salad. This is an obvious choice for a couple of reasons:
It's quick and easy. It does take some time to pick up the produce and store it all. Follow those activities up with something fast to make.

The best salads use the freshest produce. The produce in a CSA box was picked only a day or two prior—the only thing fresher would be from your own garden. Salads are a perfect way to highlight summer's bounty.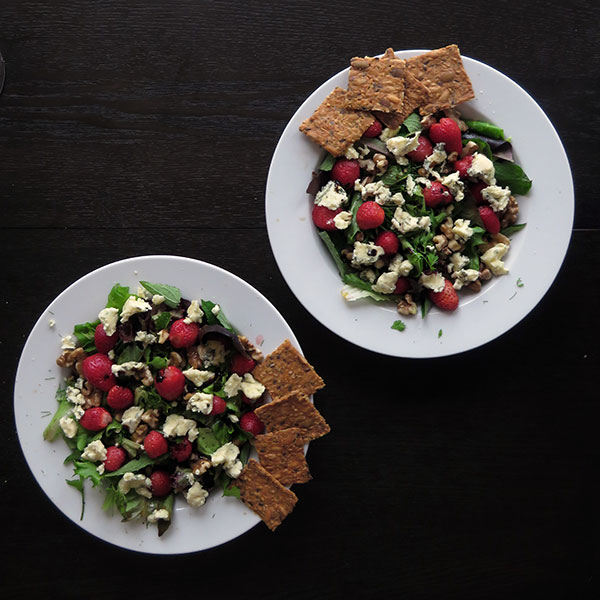 Mild & tender salad mix with blue cheese, walnuts and strawberries. Salad greens tossed with fresh herbs—mint, cilantro and fennel fronds—as well as olive oil, balsamic vinegar, and spicy pecan vinegar. Served with Eva's crackers, which I bought at Eat Local when I picked up my box. This salad is also good made with pitted cherries instead of strawberries.
The key to a good dinner salad is lots of ingredients. So use as many things from your box as you can. This approach will help you get a good start on using everything up before it goes to waste. Moreover, the variety of ingredients will help combat the salad rut that many people get into. One other important point—it's called "dinner" salad for a reason. Make sure to add some protein, grains, and umami flavors for a light but substantial meal.
I have a whole lot more to say about salad … and will … coming soon.
Consider Perishability
Perishability is something to consider as soon as you know what produce will be in your box. But it's also something to continue thinking about throughout the week. Make a list of your ingredients in order of perishability. Or create a free account with kitchenlister to see a perishability rating for each item. Either way, start to prioritize what you use first based on this ranking. Having less choice actually makes the decision of what to eat easier. Instead of saying, "What should we have for dinner?" the question becomes "How can I use up these sprouts?" or "What can I make with asparagus?"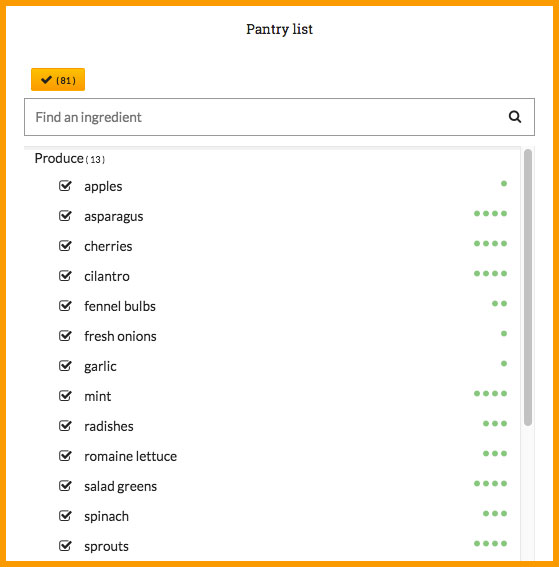 Pantry view in kitchenlister online pantry inventory and recipe finder. The perishability rating for each ingredient is shown using green dots. Four dots indicates high and one dot indicates very low perishability.
Thinking about my dinner salad again, most of the produce items I used are rated four dots. (The strawberries are not shown in the list but are also very perishable. I bought them the day prior from Tonnemaker.) Next, I would focus on eating the asparagus, cherries and sprouts over the weekend to use the rest of the highly perishable ingredients. The apples, garlic, and onions would all be fine if I didn't get to them before the next box arrived.
But I'm Eating the Next Three Meals Away From Home
Some people might refer to this as overbuying. After all, I "bought" a box of food on Thursday only to eat dinner out on Friday, Saturday, and Sunday. As long as these meals aren't all in restaurants, no problem. And if they are, then why not invite friends or family over for dinner instead? There's no better way to use up extra produce than by feeding more people.
So I offered to bring a green salad and sprouts to go with bean burgers on Friday. We were only in charge of cocktails for Saturday's dinner, but Matt chose to make one using fresh mint. (I'm still waiting for my cilantro gimlet …) For Father's Day, Rose Levy Beranbaum's Open-Faced Double Strawberry Pie has become a favorite. (I brought a green salad that day too but salad is definitely not one of my dad's picks.) We also had a few produce-centric brunches and snacks at home: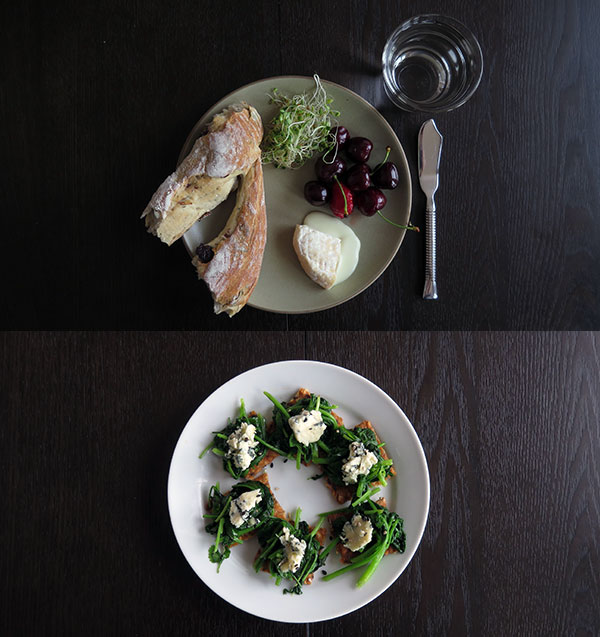 Farmers market snacking: Fougasse from Tall Grass Bakery, Rheba Washed-Rind Cheese from Tieton Creamery, Burlat cherries and clover sprouts (top). CSA Box snacking: Buttered spinach with cilantro and blue cheese on crackers (bottom).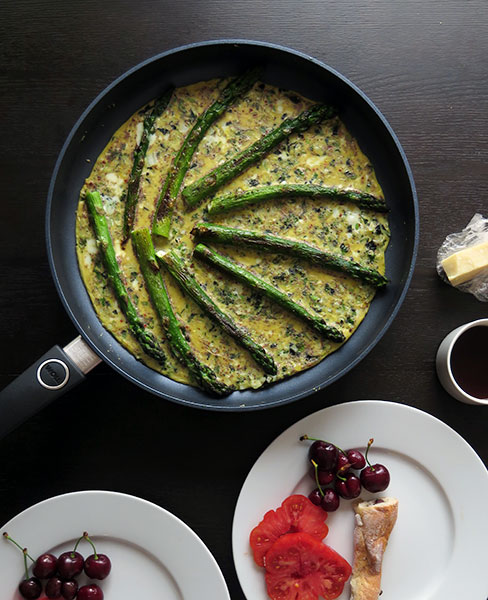 Springtime Sunday brunch: Roasted asparagus frittata with cilantro and mint. Eggs cooked with onion, sumac, aleppo pepper and the liquid from draining yogurt. Finished with grated Parmigiano-Reggiano and served with heirloom tomatoes, Burlat cherries and Fougasse bread.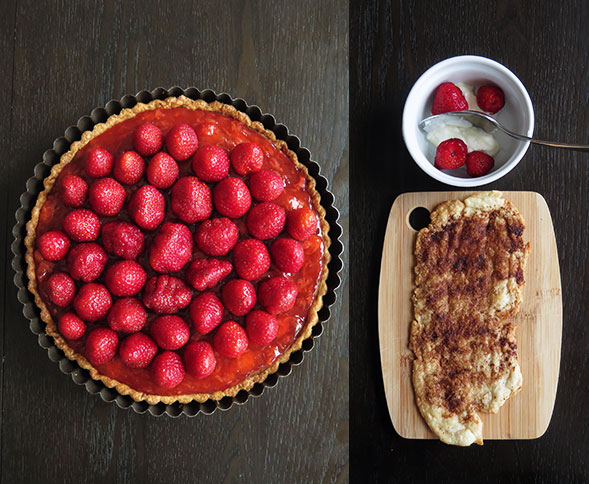 Open-Faced Double Strawberry Pie made with a layer of whipped cream cheese, thick yogurt and bittersweet chocolate*, followed by a layer of cooked strawberries, and topped with fresh strawberries (left). Don't forget to bake the pastry scraps with cinnamon and sugar for a special treat. Here served with yogurt and extra strawberries.
The Weekend Tally
Despite all the socializing, we had made a good dent in our first CSA box by Monday. While salads were a daily feature, we used a variety of ingredients and dressings. Besides my dinner salad, I made a couple Romaine salads with fresh mint and cilantro. One used fennel bulbs and Pink Lady apples. The other had spinach, radishes, radish greens, apples, and fennel fronds. A variety of salad dressings is just as important. A tahini and soy sauce dressing with cayenne, rice vinegar and green garlic compliments the fennel and apples. But so does an apricot mustard vinaigrette. Completely different dressings—both great with either salad combination.
So by Monday morning, my first box of fruits and veggies was down to this: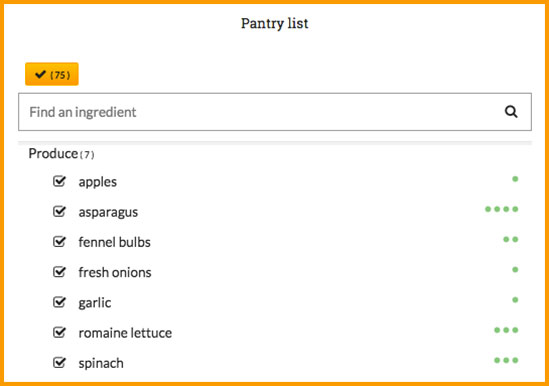 Pantry view in kitchenlister online pantry inventory and recipe finder. Many of the remaining items have only one or two green dots. The low number of dots indicates these are less perishable ingredients.
Notice the remaining ingredients have a low or very low perishability rating (one or two dots). The concise ingredient labels conceal that the asparagus bottoms and spinach crowns remain. Most people toss both of these plant scraps. The labels also obscure that spinach includes rainbow chard. All that remains of the romaine lettuce is the center core of smaller leaves. All these details can be recorded in the notebook if needed. Regardless of how detailed you get (or don't get), this brings me to my next point …
Farm Fresh Produce Always Requires Diligence
Taking the time to store produce and think about when you'll use it help to reduce food waste. But you still need to check on fruits and vegetables throughout the week for spoilage. For very perishable items, like fresh herbs and berries, that means daily. For apples, garlic, and onions, weekly is fine. This is a quick step, so don't skip it. Usually only a few parts must be used right away—some berries with soft spots or the outer leaves of a head of lettuce. Removing these parts early on will help the rest of the plant remain fresh for longer.
Leafy Greens
Most CSA boxes around the country contain lots of leafy greens. You know, the stuff everyone looks forward to—kale, collards, spinach, chard, mustard, turnip, radish, and beet greens. Fortunately, greens are nutritious and versatile. They go well with almost everything—meats, eggs, cheeses, grains, and other vegetables. They also keep for at least four to five days if stored well. The bad news? No one seems to know what to do with them. It's worth getting as many ideas as possible for using greens. I promise if you start adding them to your diet gradually, soon you'll have trouble going without them for a week. In Spain, cooked greens were the only thing I craved during my three-week trip. (For all the delights of Spanish cooking, I never came across kale.) I end up freezing a lot of the greens from my CSA boxes. They're always one of the first vegetables I run out of during winter.
So here's the first few of many ideas to come about what to do with greens. I made all the following dishes 5—7 days after receiving my box: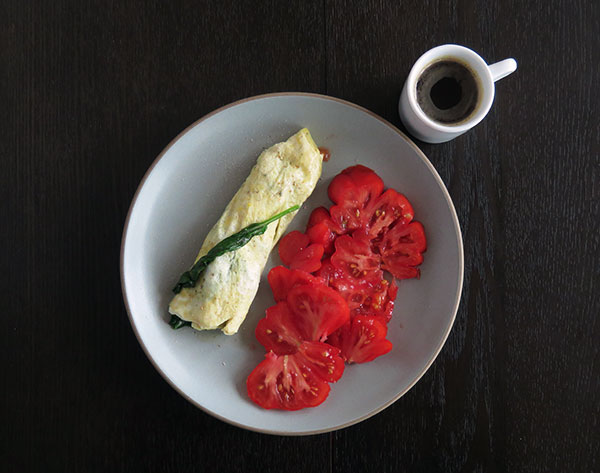 Buttered spinach and blue cheese omelet with fresh tomato slices.
The formula is beans + rice + greens. Potlatch pilaf (blend of farro and wild rice) served with leftover baked beans and braised rainbow chard. I sautéed onions & green garlic in olive oil before adding the chopped chard stems. I added the chard leaves once the stems had softened. Braise the mixture in whatever liquid** you'd like. Water and stock are typical choices. Add fat, herbs and spices for more flavor.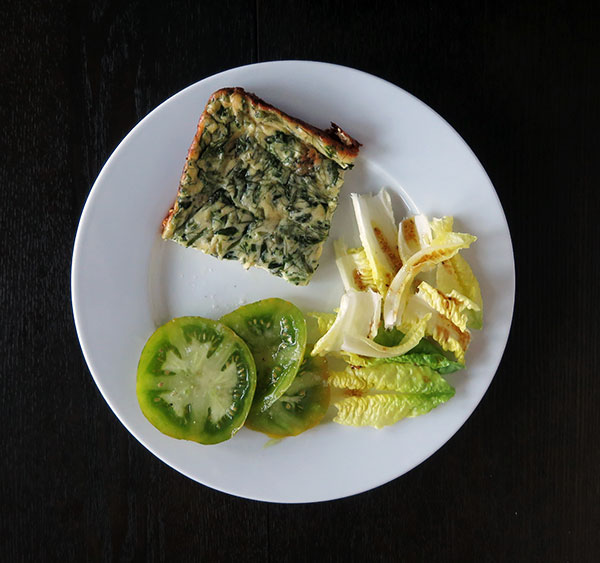 Spinach and blue cheese egg custard. I adapted this simple savory custard to use green garlic, cooked spinach, fennel fronds and blue cheese. Served with romaine leaves in apricot mustard vinaigrette and sliced Green Zebra tomatoes.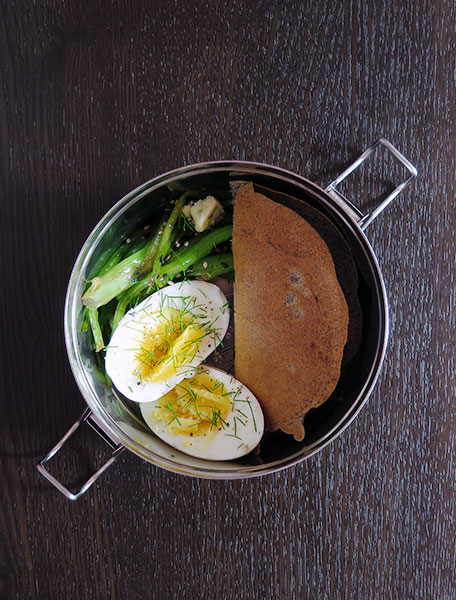 A packable lunch that's good warm or at room temperature. Steamed spinach crowns tossed with roasted sesame oil and soy sauce. Served with a boiled egg and leftover buckwheat crepe from brunch. Garnished with sesame seeds, fennel fronds and blue cheese.
A Few Other Green Vegetables
While not "leafy," using asparagus ends or garlic scapes is not common knowledge either. So what did I do with them?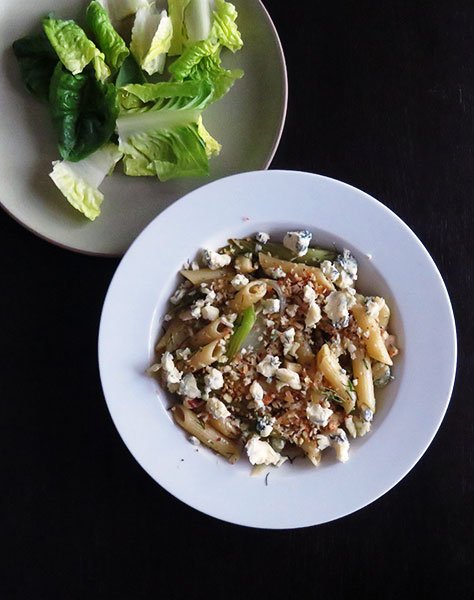 Roast peeled asparagus bottoms along with sliced fennel bulbs and yellow onions. I tossed the vegetables with penne in an olive oil and green garlic sauce. I garnished the pasta with fennel fronds and chopped brazil nuts. Inspired by this farfalle recipe, I also added toasted bread crumbs and blue cheese. Served with a Romaine lettuce salad tossed in apricot mustard vinaigrette.
Eating the fibrous ends nearly doubles your yield. Even in peak season, asparagus is a pricey vegetable so it makes sense to use as much as you can. Need more tips about using the ends of asparagus stalks?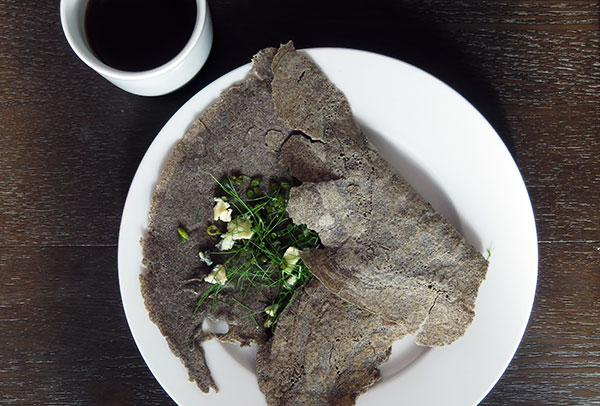 Savory buckwheat crepes are made with a mixture of buckwheat flour and whole wheat or white flours. I filled these with sautéed garlic scapes, fennel fronds and blue cheese. Perk up the flavor of green vegetables with vinegar. A drizzle of pomegranate molasses makes a nice sauce for savory crepes.
For more ideas, watch my very first YouTube video on garlic scapes.
Fridge, Pantry and Freezer Staples
Of course, this variety of meals is only possible with a well-stocked kitchen. I used many of the fridge and pantry staples I've mentioned before. A few other key items I always keep on hand:
tahini paste
soy sauce
pomegranate molasses
bittersweet chocolate
Finally, a couple things I just happened to have in my freezer:
homemade pie crust
whole milk
cream cheese
I'm diligent about adding "#freezer" to my kitchenlister notebook. That way I can actually remember to use frozen items later. That pie crust was from Thanksgiving. Still tender and flaky, it gave me a head start for my Father's Day pie. When I'm making pie dough (usually for a holiday), making one or two extra crusts only takes a little more effort. While I don't stock up on dairy products to freeze, it's a good alternative if they are close to expiring.
One Week Later
Shortly before picking up my Week 2 CSA box, here's what I had left from Week 1: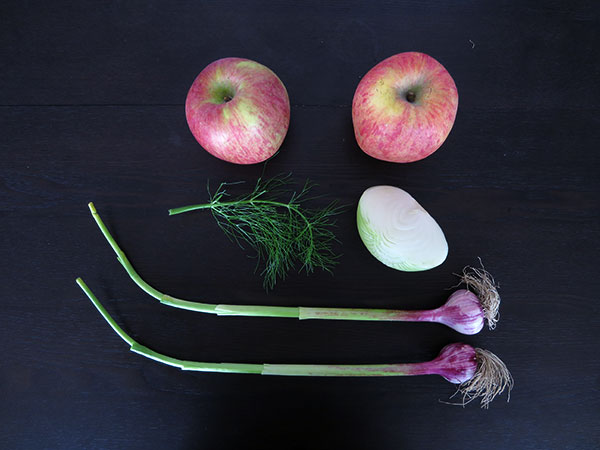 Remaining ingredients after one week from Week 1 of the Family-size CSA box. From top to bottom: Gala apples, fennel fronds, cut yellow onion, and green garlic. All items are low or very low perishability.
And did I use it all during Week 2? See for yourself in my Week 2 CSA post.
---
*Note the original recipe whips cream cheese with white chocolate and sour cream. I have made the recipe this way many times. It is delicious. Here I adapted the filling to use what I had on hand. White or dark chocolate—both are great paired with strawberries (and most other fruits).
**I often use various liquids I've accumulated from other meals for braises or soups or whatever. But this week I took it to a new level. I deglazed the pans from last week's salmon dinner and stored the jar in the freezer. I continued adding deglazing liquid from other dinners throughout the week. I accumulated fat and juices from salmon, porcini mushrooms, garlic, canned tuna and roasted and sautéed vegetables. I thawed this and added the whey from draining yogurt for my strawberry pie. This is what I used to braise rainbow chard. Amazed at how flavorful it was for such little work, I am now a convert. So I froze the extra liquid from my braised chard for a future meal. (Matt has taken to telling people I save fish fat. I won't deny this. Are you now swearing off dinner at my place? Fine, more fish fat for me!)
WE WANT TO GIVE YOU THE CONFIDENCE TO TACKLE YOUR OWN CSA BOX. START NOW BY CREATING A FREE ACCOUNT. OR GET 20% OFF AN ANNUAL MEMBERSHIP BY USING DISCOUNT CODE GBJ617 AT CHECKOUT.
If you'd like more information about any of these June CSA meals, leave me a comment.
Read more about my "Week in Review" posts.