That title is a bit misleading. Around here, it's always farmers market season. But late spring is when more vendors show up. Each week offers new goodies not seen since last year.
June also marks the start of my CSA. It will be my fourth consecutive year getting the largest share on offer. That's 15 produce items each week (plus yogurt and cheese). So for the next 20 weeks I want to try something different with these Week in Review posts. I'm going to focus on how I use up my weekly CSA box. My hope is to give tips about everything CSA-related, including:
How to pick which ingredients to use first
Ways to accommodate a lack of choice
Things to keep on hand for easy meals
What to freeze for winter
But since my CSA subscription only started last Thursday, I'm still working through my first box. What does that mean for you? This week will be a short read.
The Meals
Let's start with breakfast and snacks: hot cereal, toast, and yogurt. It all feels exciting again when you add the first strawberries and cherries of the season.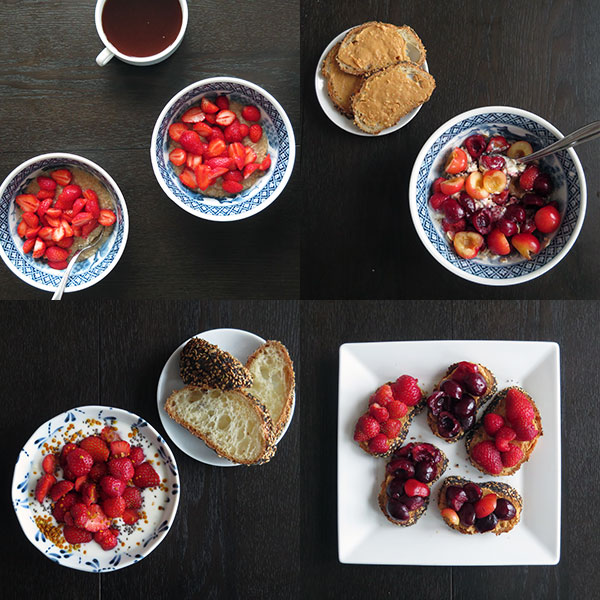 Cracked farro porridge from Bluebird Grain Farms with fresh strawberries (top left). Rolled oats in yogurt with cherries and peanut butter on toast (top right). Yogurt topped with strawberries, poppy seeds and bee pollen, and served with seed baguette slices (bottom left). Peanut butter toasts topped with cherries and strawberries (bottom right).
Remember that fresh fruit is always nice with dessert too.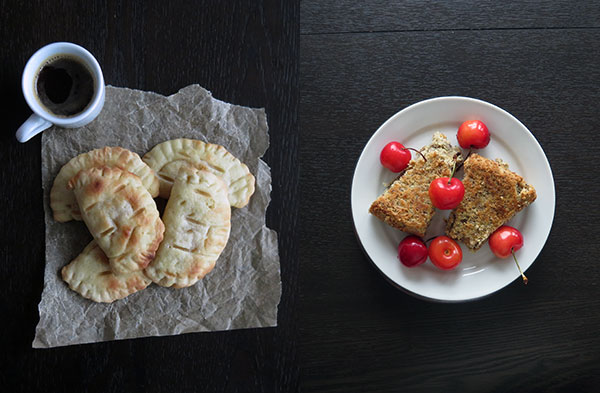 Grandma's cookies with pineapple filling and espresso (left). Leftover almond cake with fresh cherries (right).
Spring vegetables play a similar role for savory dishes. Perk up your pastas, eggs, and breads with fresh tomatoes, asparagus, and green garlic.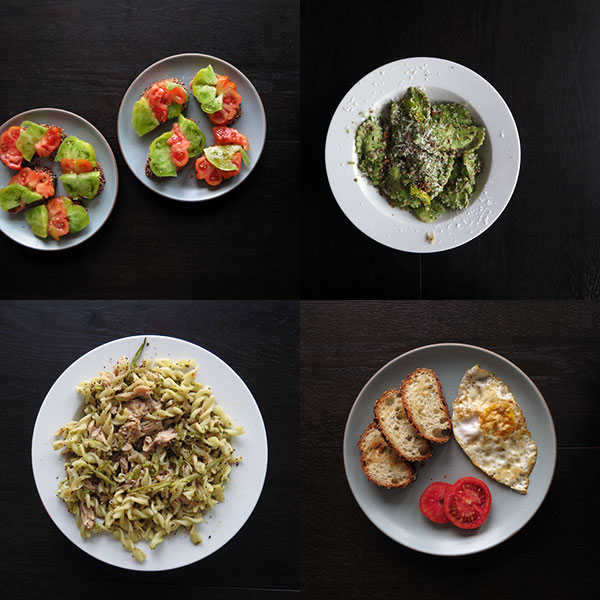 Fresh heirloom tomatoes on a seeded baguette with mayonnaise (top left). Asparagus and pancetta ravioli from La Pasta in a butter–olive oil–green garlic sauce and finished with Green Zebra tomatoes, sumac, seeded baguette crumbs and Parmigiano-Reggiano (top right). Leftover kitchen scraps pasta salad with canned tuna (bottom left). Cast-iron fried egg with baguette toasts and heirloom tomatoes (bottom right).
Finally, the classic combo: protein + starch + vegetable.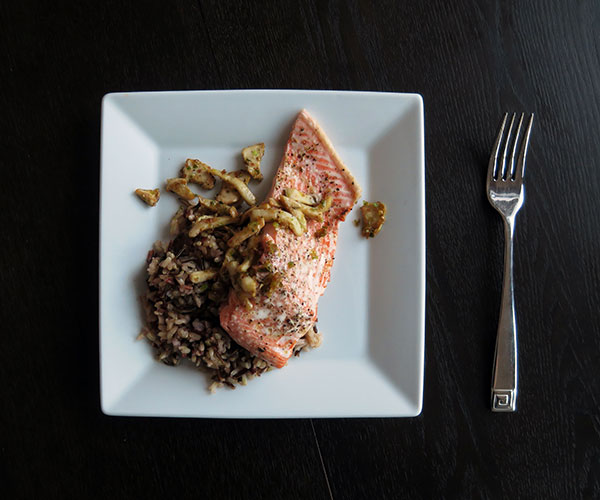 Simple roast wild King salmon from Bestcatch Seattle served with a wild rice blend and fresh Porcini mushrooms sautéed in butter, green garlic & red wine.
Don't get me wrong, I'm not saying roasted wild king salmon isn't special enough. But familiar meals that you're already comfortable making are perfect for experimentation. Fresh porcini mushrooms were an unexpected find at the night market. I admit I felt intimidated looking at the moldy color of the underside. (Apprehension. That's how you can be certain, yes, you should buy that ingredient.) But strip all that off—and freeze for stock, of course—until the mushroom is white. After that it's not different than preparing other mushrooms. Chop or slice it. Saute over high heat in a little oil with salt. Add green garlic and black pepper. Finish with butter if you like. Needless to say, amazing with salmon.
See, already done. The first CSA post for 2017 is coming soon here. In the meantime, watch this for tips and inspiration:
---
WE'VE GOT BIG THINGS PLANNED HERE AT KITCHENLISTER. YES, BEYOND CONSTANTLY EATING DELICIOUS FOOD. JOIN US NOW BY CREATING A FREE ACCOUNT.
If you'd like more information about any of these spring farmers market meals, leave me a comment.
Read more about my "Week in Review" posts.