I plan to do weekly blog posts that summarize my meals from the week. I hope these will be examples you can turn to when you find yourself thinking, "What do I want to eat today?" The goals of these "Week in Review" posts are threefold:
Serve as seasonal meal plan templates to provide inspiration for your own meals.
Include relevant tips and tricks that may not warrant full blog posts.
Show that everyday home cooking is a reasonable goal. Not all the time, but more often than you think.
You will find a lack of reliance on recipes in these posts. Not because I don't like them. (I do! I love cookbooks.) Rather, because planning, shopping, and cooking with recipes every day is exhausting. The common alternative of learning a set of meals and repeating ad nauseum is, well, just that—tiresome and boring. Not to mention incompatible with a diet focused on fruits and vegetables in season.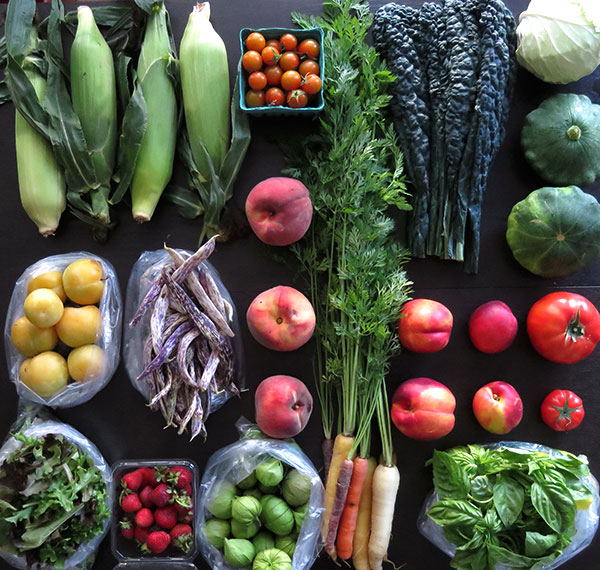 Fruit and vegetable haul from a summer CSA with Growing Washington.
I recommend you start with the most recent post (i.e. the first one in the list below) if you are trying to eat fruits and vegetables in season. The following is a list of my "Week in Review" posts to date:
CSA Week 5—Experiment With New Ingredients: July 13-19, 2017
CSA Week 4—It's Finally Raspberry Season: July 6-12, 2017
CSA Week 3—What to Do When You're Going Out of Town: June 29-July 5, 2017
CSA Week 2—The Greens Keep Coming But So Does Summer Fruit: June 22-28, 2017
CSA Week 1—A Wet Spring Means Lots of Greens: June 15-21, 2017
Farmers Market Season is Here: June 12–14, 2017
Improvisation is Key to Reducing Food Waste: May 1–June 9, 2017
Endless Effortless Meals for Spring: April 3–28, 2017
Homemade Doesn't Mean Complicated: March 27–31, 2017
This Is How You Do Convenience Food: March 6–22, 2017
Everything Good in Life—Bread, Cheese and Japanese Food: February 6–March 2, 2017
The Protein Craze: January 30–February 3, 2017
What Can You Make Right Now? January 23–27, 2017
Not-Your-Standard Weekend Cooking for the Week: January 16–20, 2017
Know What's in Your Freezer: January 9–13, 2017
Trip to the Northeast: December 26, 2016–January 8 9, 2017 (no post)
The Last Days of 2016: December 12–23, 2016
Serving Leftovers to Company (Yes We Can): December 5–9, 2016
Comfort Food (Obviously) … Another Drink Anyone? November 7–December 2, 2016
Sweet Corn and Peppers for the Last Taste of Summer: October 31–November 4, 2016
A Pantry Inventory Is Important, but So Are Habits: October 24–28, 2016
The Versatility of Homemade Vegetable Soup: October 18–21, 2016
Trip to Spain: September 25–October 17, 2016 (no post)
Eat Your Veggies Because There's No Other Choice: September 19–23, 2016
The Week of Fennel Pollen, Flowers, and Fronds: September 12–16, 2016
End of Summer Recipes for the Love of Fresh Tomatoes and Berries: September 6–9, 2016
Bacon and Eggs… and Kale? Plus Summer Only Dinners: August 29–September 2, 2016
Fresh Fruit and Reliance on Leftovers: August 22–26, 2016
---
CREATE A FREE ACCCOUNT WITH KITCHENLISTER NOW. NEXT TIME YOU'RE ASKING YOURSELF "WHAT DO I WANT TO EAT?", SIMPLY LOG IN FOR RECIPES AND MEAL PLANS.