Kale soup from sandwiches? Well, not quite. From sandwich filling to be more exact.
In my first post, I wrote about making sausage sandwiches for dinner. What I didn't mention was the leftover filling (and fruit salad for that matter). Of course, I saved it. You'll soon learn that about me. I save almost everything. But I also use almost everything. Reducing food waste is one reason I started kitchenlister. That aside, leftovers happen to make fantastic ingredients.
I ask myself these questions while I'm cooking (or putting food away afterward):
How might this be a great flavor enhancer for another dish?
Can I use this as a head start for another meal?
If I'm going to serve this again, what small alterations could I make to keep it interesting?
Can I freeze this for later? (The freezer is your best friend.)
One important caveat here. This is not an attempt to bring back the same meal in various guises as some type of culinary genius. (Although if I'm being honest, I do think that's kind of cool.) But I've heard it ridiculed too many times to suggest that to you.
My Kale Soup Example
Back to my kale soup, aka tonight's dinner. Kale and sausage soup is well known. It usually contains white beans. The cooler temperatures made soup seem reasonable. Besides, it's something I hadn't made in a while. So with that vague template in mind, along with the determination to use up some of my latest CSA box, here's what I did:
Cooked carrots and garlic in olive oil.
Once softened, in went last night's chorizo sausage sandwiches; the chorizo, onion, and olive filling, that is. I also threw in some dried oregano and more paprika.
I keep homemade stock and cooked beans in the freezer.* Since I usually decide to use them at the last minute, at some point, my soup looked like, well… not soup.
Finally, I added chopped kale.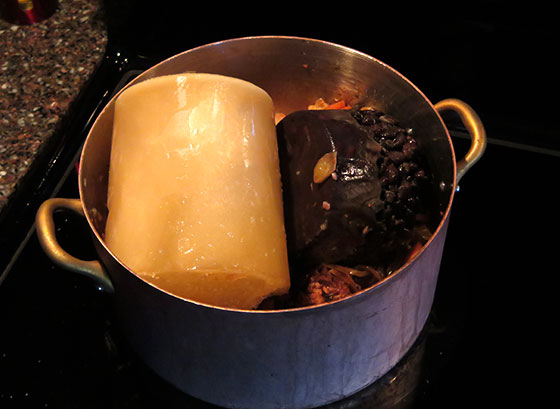 Adding black beans and leftover broth from cooking dried chickpeas to kale soup. Yep, both are straight from the freezer.
Not a speedy dinner—I gave the flavors time to blend—but my own effort was low. And the entire meal was from scratch even though I only cut up a few fresh vegetables! (Frozen vegetables would work too.) Plus now I have leftovers for lunch. Of course, a small variation will make it a little more interesting. Maybe grated Parmesan cheese? Or toasted breadcrumbs? Or fresh chopped tomato? Or hot sauce?
Here is the final dish with my repurposed leftovers: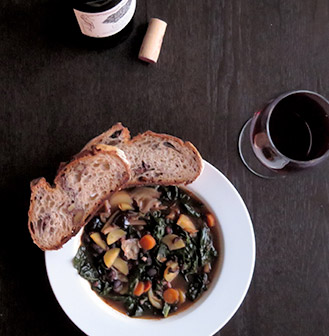 Black Bean, Carrot & Kale Soup made with leftovers from Chorizo Sausage Sandwiches with Cabbage, Onions & Olives. Served with Walnut Levain bread from Columbia City Bakery.
Don't Miss This Key Point
The goal is not: "Wow, nice transformation of sausage sandwiches into soup." You want your eaters to say, "Mmm, this kale soup is delicious." And then watch them lick the bowl. (Okay, I admit, that was me.)
---
*To keep track of what's in my well-stocked freezer, I use a kitchenlister account. IF YOU'D LIKE TO CHECK IT OUT FOR YOURSELF, CLICK TO CREATE A FREE ACCOUNT.
And if you have made soup from sandwiches—I'm talking the entire thing—let me know by leaving a comment.
The soup detailed in this post was one of my Week in Review dinners for August 22–26, 2016.