This week I talk about (and eat!) a lot of seasonal fresh fruit. It's August, after all. Also, read on for more fun with leftover food.
Monday
I devoted my first blog post to my Monday meals, but will add a note about lunch. As tempting as it is to eat weekend leftovers for dinner on Sunday night, try to resist. You'll be so happy with yourself come lunchtime on Monday.
Tuesday
Besides the kale soup I posted about, here's another example of repurposing leftovers. Breakfast was yogurt again, but this time topped with the fresh fruit salad from the previous night.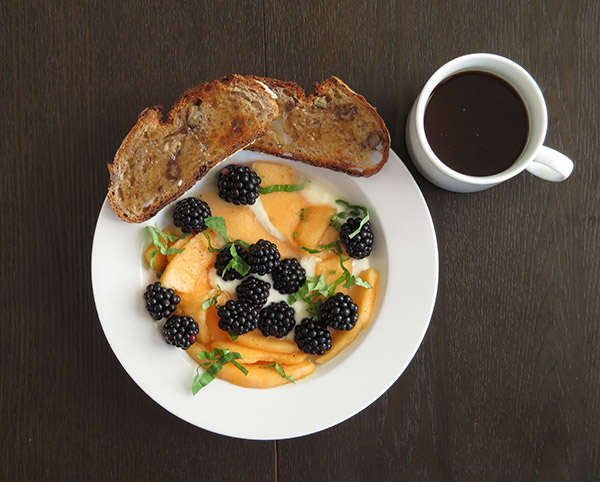 Plain yogurt topped with leftover Cantaloupe & Blackberry Salad with Basil. Served with walnut toast, honey, and coffee.
A fresh fruit topping for plain yogurt may be obvious. (But then, why isn't this more common? It beats those fruit-flavored, sweetened yogurts on cost, health and flavor.)
Wednesday
Perhaps something new to you is shakshuka, an egg dish with tomatoes, peppers and onions? I used it as inspiration for this morning's eggs. I already had cooked tomatillos in the fridge from the weekend. I pureed these with some hot chiles (from the freezer again—yes, you'll read that a lot) and basil (because that's the herb I had). This gives you a salsa with a wide variety of uses: nachos, enchiladas, tacos, or whatever you wish. It freezes well for use throughout winter. But this morning, I chose to simmer a couple eggs in the salsa and ended up with this dish: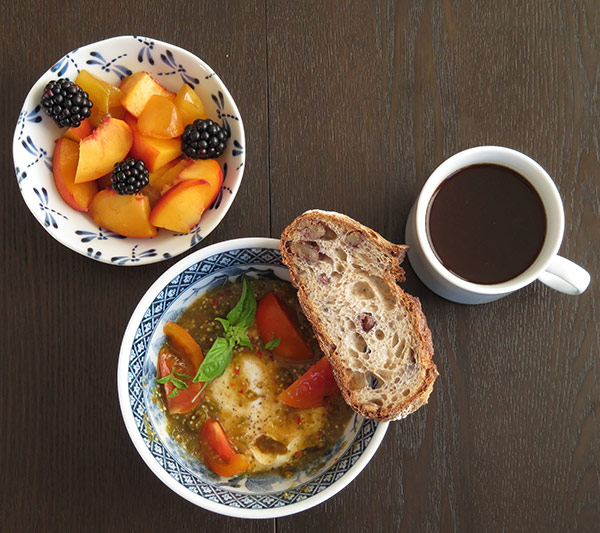 Eggs Simmered in Tomatillo Salsa topped with tomatoes and fresh basil. Served with a fresh fruit salad of nectarines, pluots and blackberries, walnut toast, and coffee.
Although I live in the Pacific Northwest, I have never eaten fish regularly. I love fish, so this is due to inconvenience rather than preference. I don't grocery shop weekly and I'm not a fan of frozen fish (smoked fish is the exception). So I was excited to learn about a nearby CSF. The pick-up day is Wednesday so through October, at least, that means fish for dinner. I decided to slow-roast the black cod I received in the leftover tomatillo salsa. I got the idea from this black cod recipe. While the salsa has more liquid than the spice mixture used in the original recipe, the dish turned out well.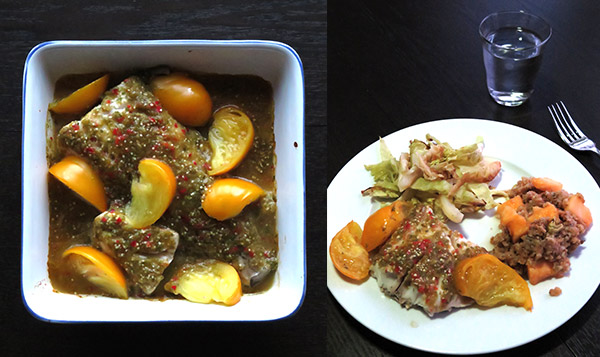 Slow-Roasted Black Cod in Tomatillo Salsa and Tomatoes. Served with Roasted Green Cabbage and a Cracked Wheat-Cantaloupe Salad with Pistachio Nuts and Pomegranate Molasses.
If you're not familiar with black cod, I recommend it. Also called sablefish or butterfish, it's not actually cod at all and is a fatty fish with a soft texture. Black cod is also a sustainable seafood choice whether sourcing from Alaska or the US West Coast. Many recipes pair it with Asian flavors like soy sauce and ginger. Here's an easy recipe I like, but definitely serve it with some green vegetables to cut the richness.
Still Wednesday
Now for the first time on this blog, I'm going to talk about dessert. Since I've never mentioned it, you might have wondered if I even eat dessert. I assure you, I do (and frequently). This night was chocolate ice cream topped with raspberry sauce. Two keys to success:
Always keep raspberries in your freezer.
Splurge on good-quality ice cream (i.e. it's only sold in pint containers). Mine was Extra Dark Chocolate from Cupcake Royale. (Or make your own!)
To put this simple dessert together, smash the raspberries into a thick sauce with a potato masher or fork. Spoon on top of the ice cream. Enjoy and feel like you just made dessert a teeny bit healthier. So, so delicious. (Sorry I ate it too quickly for photos.) Edit: But I made it again so here you go: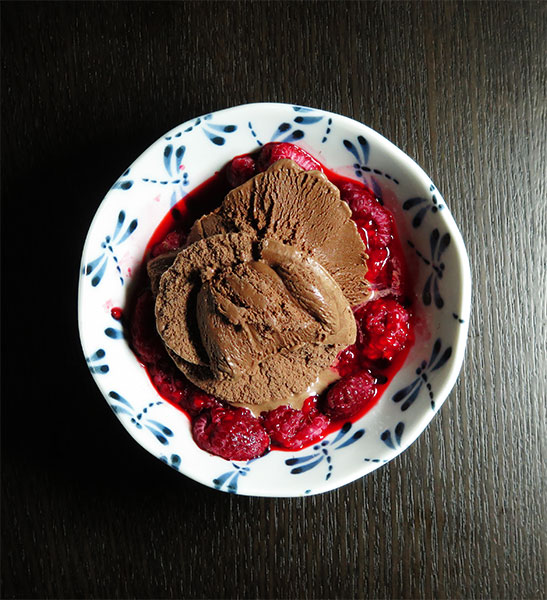 Royale Extra Dark Chocolate ice cream from Cupcake Royale served with smashed frozen raspberries.
Thursday
I promise, no more leftovers today! While this yogurt-and-fruit breakfast may appear to be more of the same, I actually stirred rolled oats and chia seeds into the yogurt. I add these directly to the yogurt container for convenience. Doing this the night before allows the oats to soften and the chia seeds to expand. Plus it's so easy for morning. Grains and protein ready to eat, just add some fresh fruit. I love using up the last bit of yogurt this way.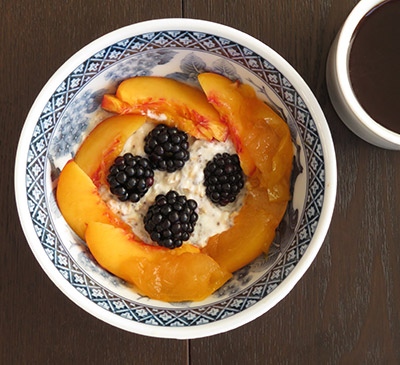 Stretch your last bit of yogurt with this Overnight Oats and Chia Pudding Combo, topped with nectarines, pluots and blackberries.
In what seems to be our typical summer weather this year, the temperature jumped from 70 to 90 degrees in two days. For me that meant no cooking. I pick up my CSA box on Thursdays so I had plenty of no-cook options available for dinner. Here's what we assembled: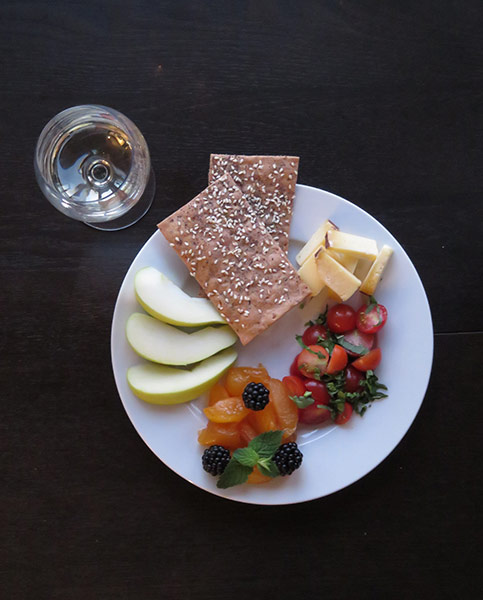 A plate of appetizers for dinner on hot days: Emmer & Flaxseed Crackers from Eat Local, Dairy Reserve Cheese from Cherry Valley Dairy, Cherry Tomato and Basil Salad, and a selection of fresh fruit in season (apples, pluots and blackberries). Served with a glass of Cheninieres wine from Waitsburg Cellars.
Friday
The temps were just as hot on Friday but we had plans to go backpacking over the weekend. I was determined to use up some leftovers before we left. We ate the last two eggs for breakfast.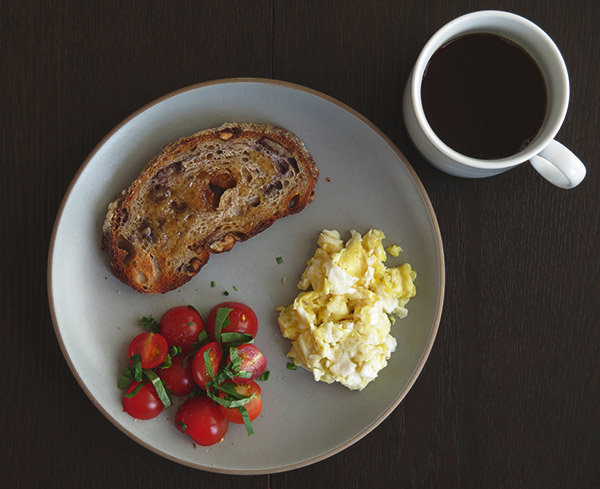 My first attempt at Fried-and-Scrambled (annoyingly called Frambled) Eggs. Served with Cherry Tomato and Basil Salad, toast made from frozen bread, and coffee.
I have a toaster oven (which I make good use of in both summer and winter). I used it frequently throughout the week, but such a hot day made it essential. My dinner casserole consisted of various leftover ingredients mixed together. An assemblage of cracked wheat, chickpeas, roasted cabbage, tomatillo salsa, onion, and breadcrumbs. I suspected leftovers from this dish would work well for our one-night backpacking trip. (Just pack and eat; no reheating!) Everything was precooked but I wanted to warm it up. I topped the casserole with cherry tomatoes and fresh basil after it came out of the toaster oven.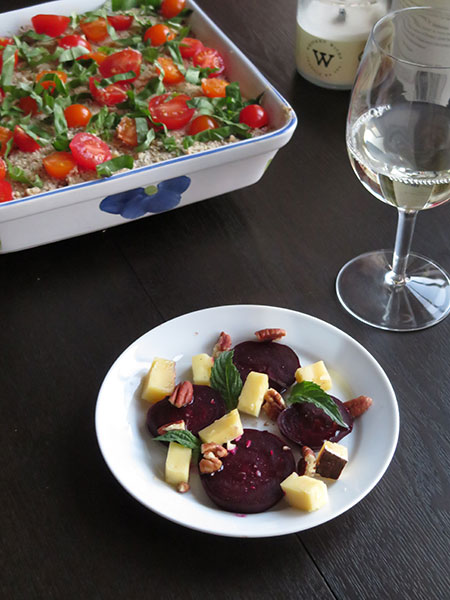 Casserole of Leftovers made with cracked wheat, chickpeas, cabbage, onions, tomatillo salsa and breadcrumbs, and topped with cherry tomatoes and fresh basil. Served with a salad of roasted beets, artisan cheese, pecans and fresh mint.
What about lunch?
You may be wondering why I made little mention of lunch. For the most part, I already told you about those meals… yep, leftovers. But as I recommended in my post about how to use leftovers, it's important to vary the garnishes. This often meant adding some grated cheese, fresh tomatoes, chopped nuts, or olive oil. And cutting up some local fresh fruit on the side.
---
READY TO BRING A NEW LEVEL OF ORGANIZATION TO YOUR COOKING? KITCHENLISTER CAN HELP, BUT FIRST CREATE A FREE ACCOUNT.
If you have questions about using leftovers or want more details about these meals, leave me a comment.
Read more about my "Week in Review" posts.