For this "Week in Review" … oh, wait … strike that. Make that "Month in Review". Doh.
So instead of giving you details about each meal, this post will only contain the highlights. Seems fitting though because November means Thanksgiving. It also means Elections (yes, with a capital E). What do these two have in common besides the month? Comfort food and alcohol. Both are required. This year, in excess.
I didn't give up cooking in November. On the contrary, I continued to get Fall CSA boxes from Growing Washington. There's still lots of local produce available—amazing, really, as I woke up to snow flurries just this morning. Still, the variety is not quite the same as during summer. And that means, my own cooking doesn't have quite the same variety either. Yes, perhaps it requires being a little more creative to keep meals interesting. But the benefits are longer storage—most items are not highly perishable—and simple techniques, like roasting and soups.
Well, if I'm doing all this cooking, why no blog then? I'm not quite sure how to answer that but here's a suggestion. If you want to make daily cooking feel easy, start a blog about it which requires too much writing, photography and editing. It definitely makes getting meals on the table seem like the easy part.
Are you familiar with Nancy Pearl? (If you live in Seattle, how could you not be.) She's the only famous librarian I can think of off the top of my head. I love leafing through her books to read the fun titles of her lists almost as much as for the book recommendations themselves. Where am I going with this tangent? My inspiration for the headings in this post. Meals are categorized according to whatever I feel like. So scan and stop when you find one you're interested in. And I'd love to answer your questions so be sure to leave me a comment.
Super Simple: Yes, you can make these just from the photos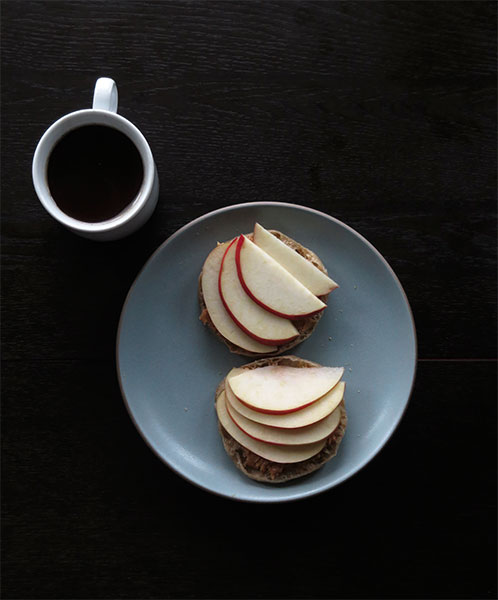 Toasted spelt English muffins from Coyle's Bakeshop topped with peanut butter and thinly-sliced apples.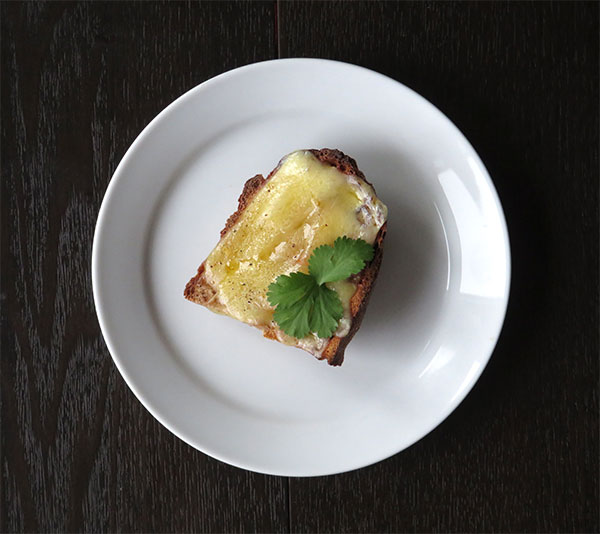 Super simple snack: cheese toasts. Fontina cheese used here but literally any melting cheese will work. Or spread a fresh cheese, like ricotta or chevre, on after toasting the bread.
Find a Simple Recipe (Where? In Kitchenlister, Of Course)
Great for company and surprisingly good leftover for breakfast … or lunch, or dinner. IF you can stop yourself from eating the whole thing in one sitting. In some versions, the apples are baked right into the pancake.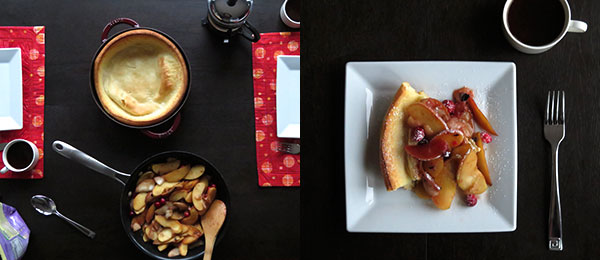 Dutch Baby Pancake topped with apples and cranberries sautéed in butter, brown sugar, and brandy. Garnished with powdered sugar.
Confession Time. I love my own homemade crepes. So much, in fact, that my husband won't let me order them in restaurants anymore. One too many complaints, I guess. My crepe recipe (it's not actually written down) is a tweak on one from a longtime friend. After having her crepes many times years ago, I finally "got" the recipe from her. The recipe originates with her mom and is written in French. It's also not precise, saying something like "a little of this", or "a dash of that". It ends with "you know the rest". But what I did commit to memory was the ratio of flour to eggs. One egg for every 100 grams of flour. The other thing I committed to memory? Her comment that no, you do not need to let the batter rest before cooking. Great! I like that. And I don't—just whisk it all together and start cooking.
I'll assume you don't have a kitchen scale—you really should get one though—and you don't want to add milk until it looks like the "right" consistency. So here's a recipe to get you started. I will say, though, I have never used heavy cream in crepes. Milk is plenty rich in my opinion.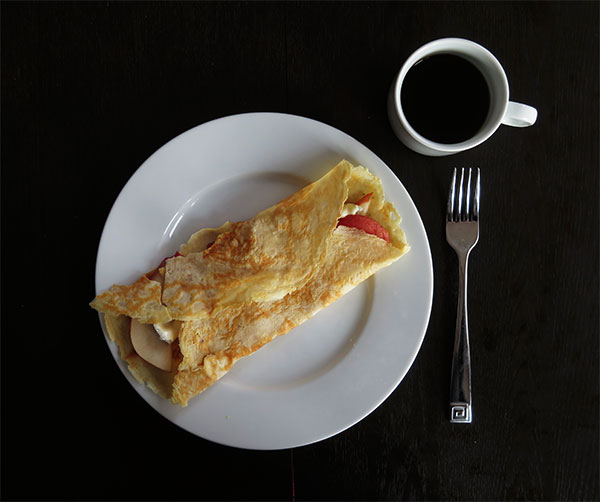 Crepes make a leisurely weekend breakfast. Have the filling ready and eat each crepe as it's done. Once the batter is made, it's easy to let people cook their own (so you can eat). Here, filled with fresh red Anjou pears and Seastack soft-ripened cheese.
Baked oatmeal for those of you with really busy mornings. Make it ahead and reheat all week. I tend to base my adaptations on the baked oatmeal recipe in Whole-Grain Mornings. Otherwise, you could try this recipe which calls for fresh figs. Since fig season is long past, use dried figs, or fresh pears instead.
Baked oatmeal made with roasted Delicata squash slices. Garnished with fresh pomegranate seeds. Recipe adapted from Whole-Grain Mornings, by Megan Gordon.
Essential Life Skill #1: How to Cook Eggs
The following looks like a long list to learn, but I promise each skill will provide for endless meals. You have heard "put an egg on it", right? In no particular order: fried, scrambled, poached, boiled, baked, omelets, and frittatas. Then there are other random ways to cook eggs. Like this: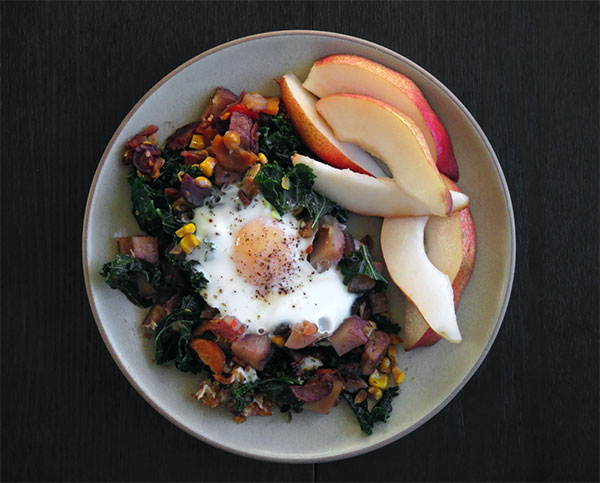 Vegetable hash made with leftover pan-fried potatoes, braising mix, roasted Delicata squash, and corn. Make wells in the hash and cook eggs until whites are set. Served here with fresh pear slices.
It's not important to master any of these egg cooking techniques. Instead, just learn to be comfortable making them—without a recipe. Also, learn to like eggs with both runny yolks and cooked until done. That way, it never matters too much if they don't turn out perfectly. Much more important is sourcing good-quality eggs from chickens that have access to pasture. These eggs will have bright yolks and firm whites. They will also have unbelievable flavor if you're only used to factory "farmed" eggs.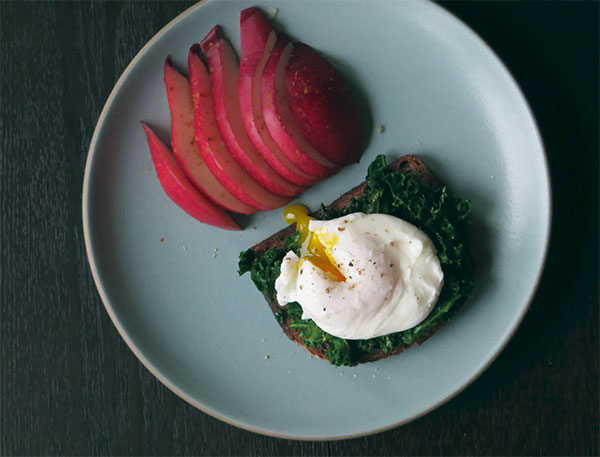 With good bread and eggs on hand, a simple breakfast only takes moments. Here a poached egg is placed on braised greens on toast and served with fresh pear slices. Tasty even without the greens.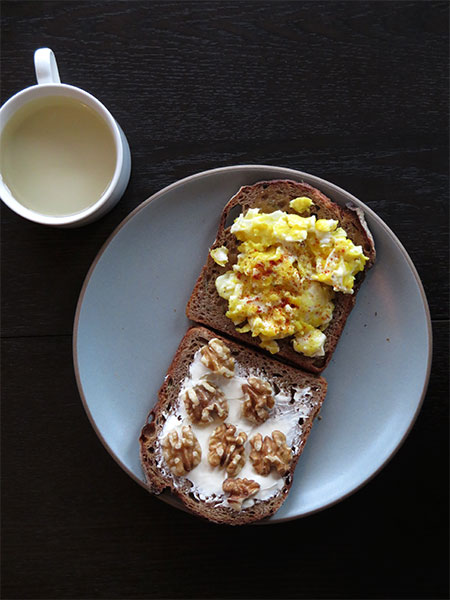 Scrambled (well, frambled, actually) eggs on toast with paprika (top). The second toast is cream cheese and walnuts (bottom).
Or go global. Watch my Zuchini Slice vs Frittata video:
Please, Stop with the Take-Out Already
All of these take-out favorites are easy to make at home. Okay, fine … corn tortillas do take a little practice.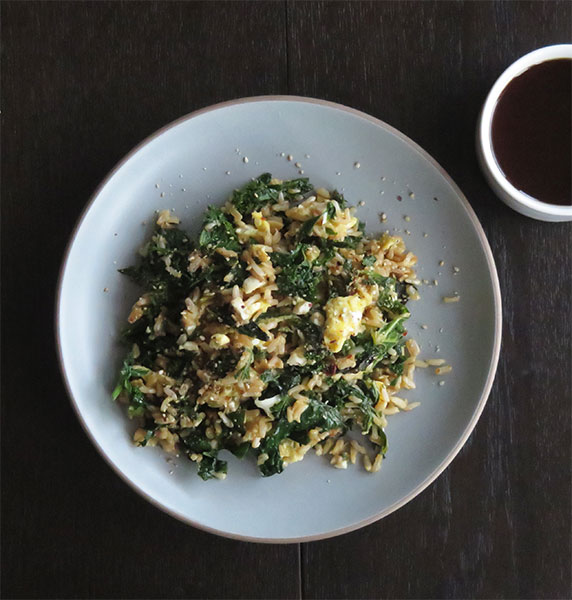 Fried rice is so easy to make with leftover cooked white or brown rice. In fact, you must use cold rice otherwise it will be gummy. And no, you don't have to add greens but it's more nutritious that way 🙂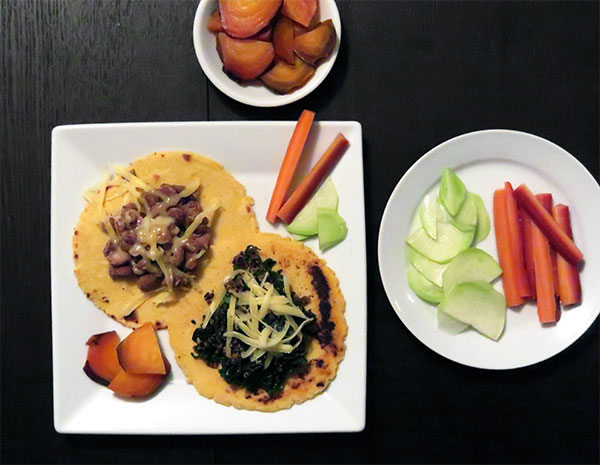 Homemade tacos two ways: (1) Cooked from scratch pinto beans and (2) Quinoa with sautéed braising greens. Both tacos made with homemade corn tortillas and topped with Pepper Jack cheese. Served with roasted golden beets and quick-pickled vegetables: carrot sticks and sliced kohlrabi.
And of course, everyone's favorite—pizza. I've tried weeknight pizza before but this new dough recipe is my favorite so far.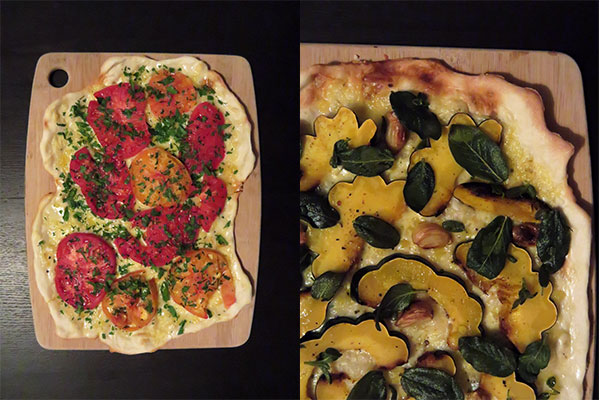 One night, two homemade pizzas. Heirloom tomato and mozzarella pizza garnished with fresh parsley (left) and roast garlic and acorn squash pizza garnished with fried sage leaves (right). Last-minute, yeasted pizza dough recipe (yes, really!) here.
Essential Life Skill #2: How to Buy Cheese
Good cheese is expensive. The converse is also true: inexpensive cheese is not good. But cheese is just one of many foods that our culture seems to think is somehow okay to consume in excess. Thus, it should be cheap, cheap, cheap. (How else can we afford to eat it all the time?) We can't, and shouldn't. Wait, what did I just say? Strike that. We should eat it all the time because good cheese is possibly one of the best foods ever.
However, we should eat it regularly, but in small quantities. Now I have been known to flout this rule on occasion. Cheese is not health food. Furthermore, no ultra-processed, low-fat, plastic-tasting version of it (with the accompanying laundry-list of ingredients) is going to make it so. In my mind, it's like with ice cream. If you can buy a 2 lb package of it, you're better off not buying it at all.
To summarize: enjoy cheese, even daily, but in limited quantities. Buying "expensive" cheese will ensure you're only buying what's worth spending the money on. Of course, don't just buy because it's pricey. Buy what tastes good. But if it truly does taste good, then why would you use it as filler? A simple test is to ask yourself this question: Would I want to eat this cheese all by itself?
And here's how you enjoy it: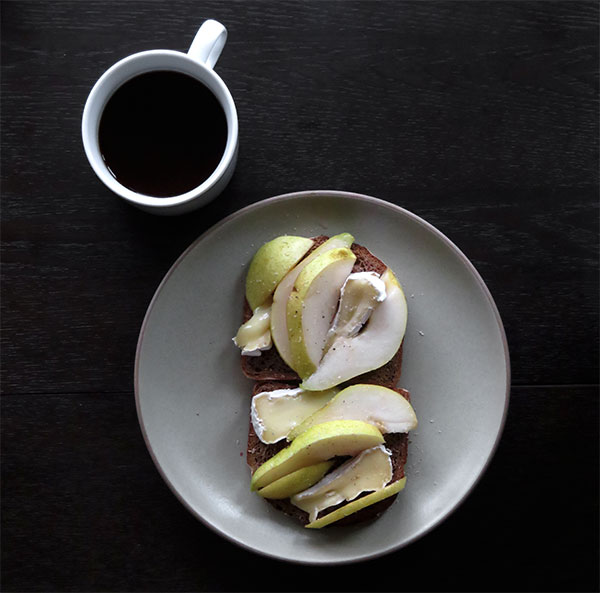 Toast for breakfast is always satisfying. Here's how to do it right: toasted rosemary sea salt bread with fresh pear slices and brie cheese from Acme Farms Cheese.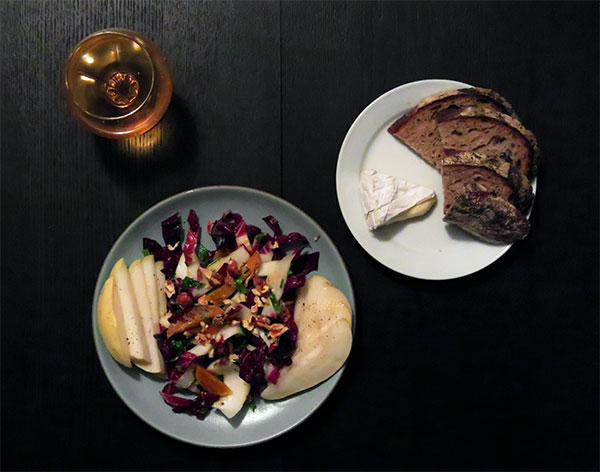 Brie cheese, whole-wheat bread and wine round out this simple winter salad of radicchio, golden beets, celery leaves and walnuts. The salad was tossed in a mustard vinaigrette and served with fresh pears.
Also see cheese toasts above.
Finally, the Comfort Foods I Promised You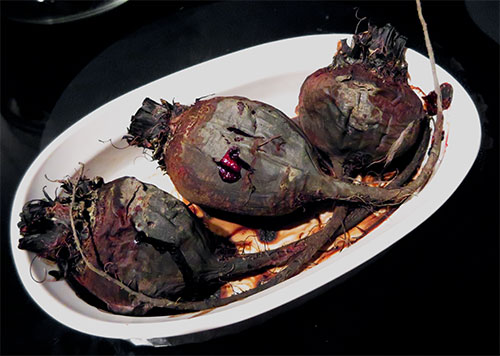 Roasted beets
Not exactly what you were expecting? Okay, fine. But beets are actually way more versatile than you'd expect. And, at least in the Pacific Northwest, beets are winter staples. Actually, they are year-round staples for many farmers here.
And this salad (hands down, one of my favorites ever) would not be the same without them: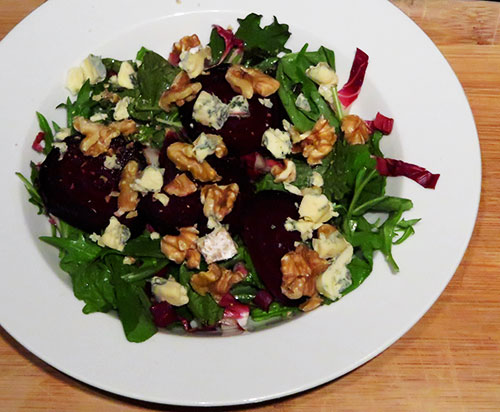 Fall mixed greens salad with roasted beets, walnuts and blue cheese in a mustard vinaigrette.
Okay, so maybe vegetable pasta isn't your idea of comfort food either. But it is to me because the interesting mix of flavors is quite satisfying. Plus it still feels healthy. Moreover, it's Brussels sprout season. This is one treat you should definitely buy at the farmers market. Pick out small sprouts that feel heavy for their size (how you might pick out cabbage or winter squash). How to cook them? Honestly, I can't remember the last time I made Brussels sprouts. Matt always cooks them like his grandmother did—lots of butter and a little brown sugar and nuts. But either roasting or sautéing, you can't go wrong. Just don't boil them.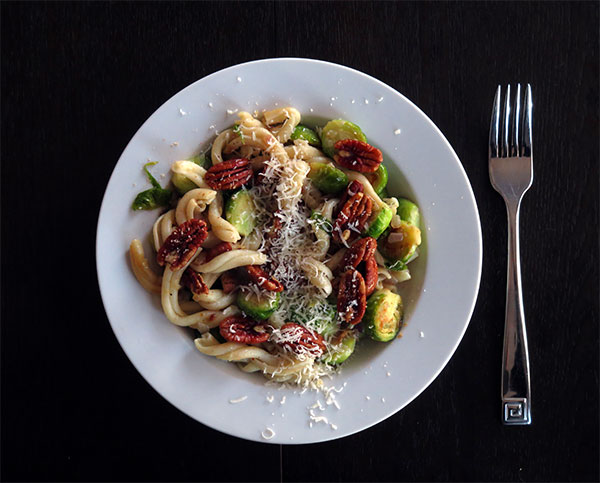 Sauté Brussels sprouts in butter and brown sugar and top with pecans. This makes a great side dish but also a tasty pasta with fresh fusilli and Parmigiano-Reggiano cheese.
I do not make braises often but feel inspired to after reading Cooked, by Michael Pollan. Braised foods are perfect for winter. Braised dishes always develop hearty flavors over the long-cooking times required. Extra benefits: braising relies on inexpensive ingredients and makes fantastic leftovers.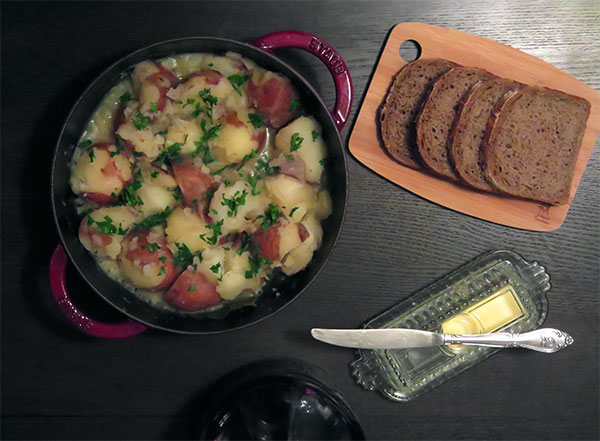 Braised potatoes garnished with fresh parsley. Served with Rosemary Sea Salt bread from Raven Breads and butter. Potato recipe from All About Braising, by Molly Stevens.
You already know how much I love using leftovers.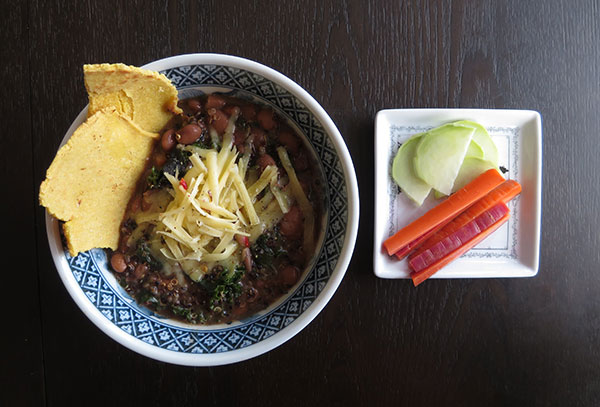 When leftovers from homemade tacos becomes soup. Easy and delicious.
Now for More Comfort: You Need These Desserts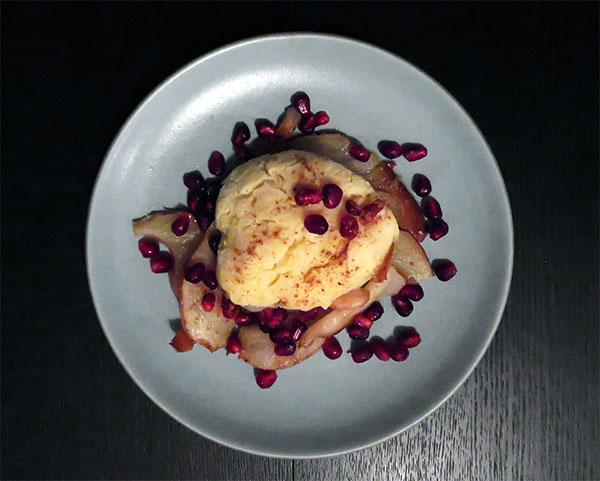 Fruit cobblers are simple when made with these Cream Drop Biscuits. Here fresh pear halves are tossed in cinnamon and cardamon, then placed in a buttered dish, and topped with the biscuit dough. Bake at 400 degrees.
My hunch is baked apples are served more frequently for breakfast than dessert. Yet, if you're looking for a healthier option, baked apples are a good choice. The topping is a combination of rolled oats, nuts, seeds, dried fruit, sugar, butter and spices. Mound it in the cavity after coring the apple and bake. It will feel more like dessert if you serve it with ice cream. You don't need a recipe, but if you really want one, here you go.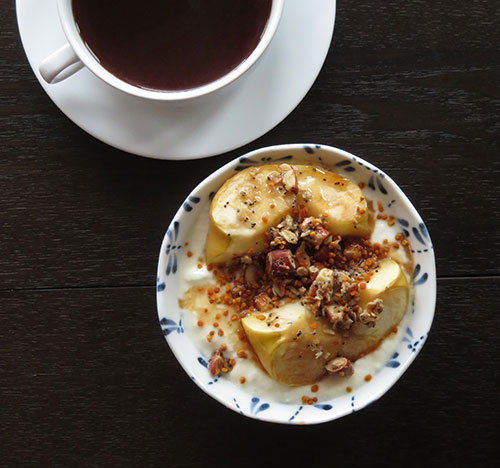 Apple baked with rolled oats, almonds, brown sugar and butter. Drizzled with boiled apple cider and sprinkled with poppy seeds and bee pollen. Served on yogurt with coffee for breakfast.
FTS, Just Give Me a Drink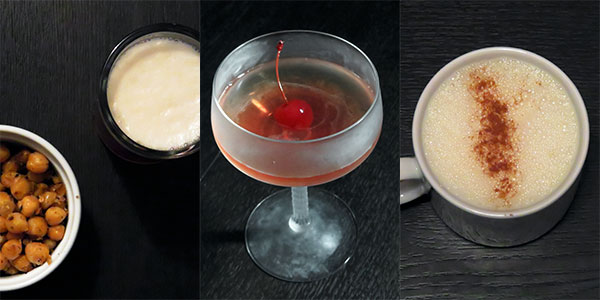 Beer and roasted chickpeas, a Manhattan, and brandy-spiked eggnog.
Essential Life Skill #3: Find Something to Smile About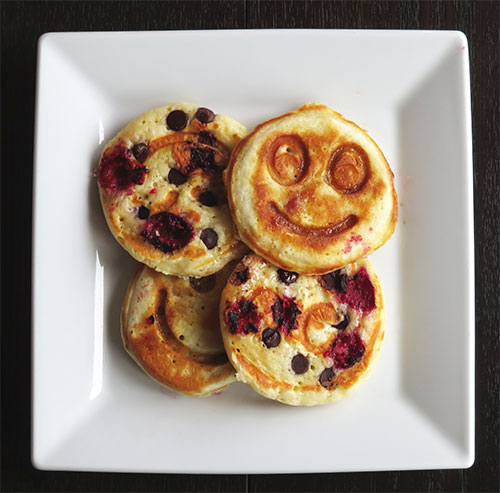 Blueberry-Corn Pancakes, recipe from Whole Grain Baking.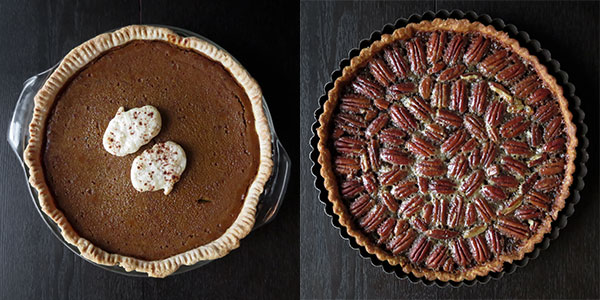 Homemade pie makes everyone happy. Especially when there's half a pie per person. Yeah, we do Thanksgiving right. Pumpkin pie (left) and pecan tart (right). Both recipes from The Pie and Pastry Bible, by Rose Levy Beranbaum.
On to December
Here's to being hopeful for the next months and years ahead. Otherwise, I may be doing a lot more posts on comfort food and cocktails.
---
KITCHENLISTER CAN HELP YOU FIND LOTS OF RECIPES FOR COMFORT FOODS AND DRINKS (INCLUDING NON-ALCOHOLIC). PLUS WE'VE GOT THE HEALTHY STUFF TOO. ALL YOU NEED TO DO IS START A FREE ACCOUNT.
If you'd like more information about any of my November meals, leave me a comment.
Read more about my "Week in Review" posts.