This week so many of our meals came out of leftovers: black beans cooked from scratch, creamed corn and braised red peppers. I think you'll see a wide variety of foods nonetheless. In fact, for this "Week in Review" post, I'm going to try something different.
And so, let's start with breakfast … yep, all of them.
Breakfasts
None of my breakfasts this week took more than 10 minutes of prep time. For many people that's still too much time. Back in my commuting days (albeit, a short commute), Matt always made breakfast. I managed to eek out a few minutes to put lunch together. Any extra time was devoted to actually eating, not cooking. While the daily variety in my weekly posts may not be achievable for you, each meal idea is simple. Many can be assembled or cooked the night before and reheated in the morning. (In some cases, even in the office, if you must).
Monday we ate braising mix (aka farmers market convenience food) with a fried egg and sliced Asian pears. Remember when I told you greens go so well with eggs? If you want to find an easy way to eat more greens, braising mix is a must. Most farmers sell it in bags so you can grab and go. Although the greens have been washed, I still give them a quick rinse. Unlike salad greens, however, you don't need to worry about drying them. Cooking up a large batch of greens gives you a quick addition for lots of meals. For a faster version of this breakfast, reheat cooked greens for a minute in a pan. When warm, push them to the side, add butter (or oil if you prefer), and cook your eggs (fried or scrambled).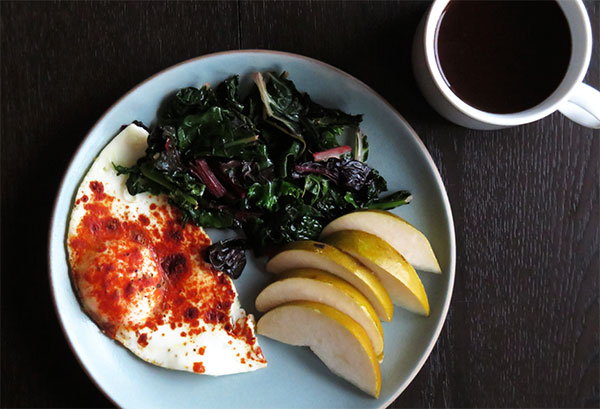 Sauté braising mix, then push it to the side and fry an egg in the same pan for easy clean-up. Here the egg is finished with paprika. Served with sliced Asian pears and coffee for a quick and nutritious breakfast.
On Tuesday, we had a classic: rolled oats with cinnamon and raisins. Read more about hot cereal here. It's a rarity to have milk on hand so I also made a matcha latte for a special treat. The oats are more flavorful if toasted in a pan with butter. I do this optional step when I have time, or when I remember to do it ahead of time. Skipping the toasting, this breakfast takes less than 10 minutes. It could also be cooked ahead and reheated.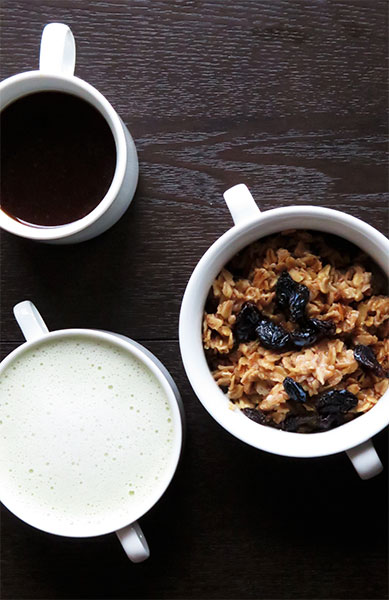 A breakfast classic: extra thick rolled oats with cinnamon and raisins. Served with a matcha latte and coffee.
I revisited the idea of savory yogurt on Wednesday. Yogurt is always a fast breakfast but can often be assembled the night before. I put this together in the morning with leftover roasted squash. I also added squash seeds that we managed to save from the night before (a first!). The squash can be reheated if desired. Otherwise serve it at room temperature or cold straight from the fridge.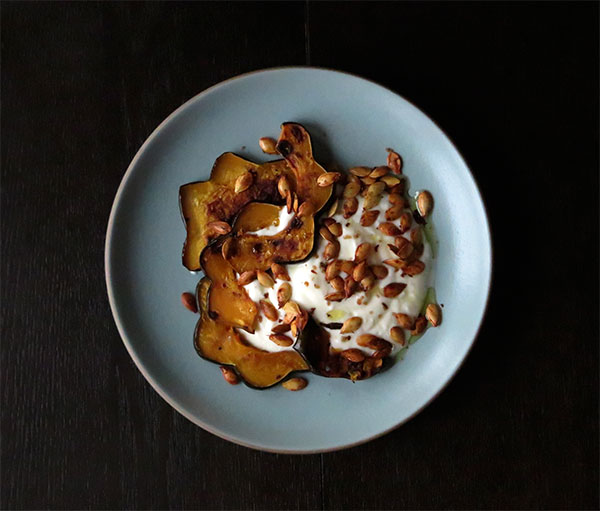 Every ingredient matters in this simple breakfast. Plain whole–milk yogurt drizzled with olive oil, then topped with winter squash. Here I used leftover roasted Acorn squash as well as toasted squash seeds tossed in brown sugar.
At first glance, Thursday's breakfast may look like a lot of work. And it would be if you made all the pieces that morning. But the list of reused leftovers is significant. It starts with a casserole made from various leafy greens. I finished it off with a topping of creamed corn and braised peppers. The actual work for morning? Crack an egg and sprinkle garnishes on the yogurt.
The real limitation with this breakfast is the cooking time for the baked eggs: 15–20 minutes. But if the ramekins are already prepped in the fridge, then you can put them in the oven while getting ready. A completely hands off breakfast. You can use almost any leftover combination of vegetables for baked eggs so get creative. Of course, cheese and grains make tasty additions as well. For the yogurt, I always grab various seeds, nuts, and spices as needed in the morning. But if you find certain combinations you like, premix them for faster assembly.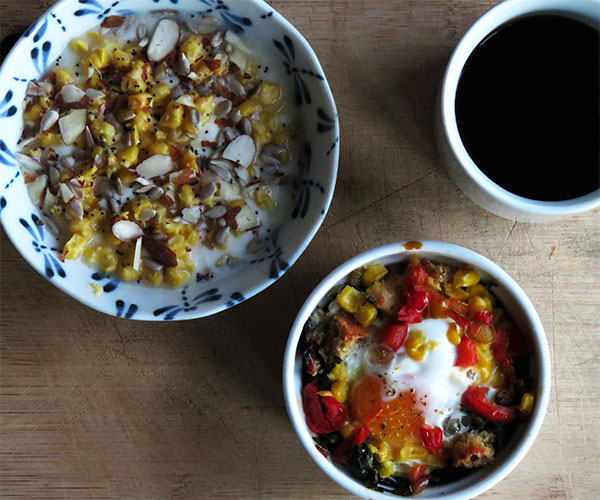 This complex looking breakfast is actually simple. An egg baked in a collection of leftovers. A leafy greens casserole serves as the base and the egg is topped with creamed corn and braised peppers. Served with yogurt garnished with creamed corn, sliced almonds, sunflower seeds, and poppy seeds.
For Friday, we are finally to the breakfast I ate almost daily for nine years. Bob's Red Mill 10-grain hot cereal with fruit. Tried and true—10 minutes. I love hot cereal so much I've devoted a whole post to it.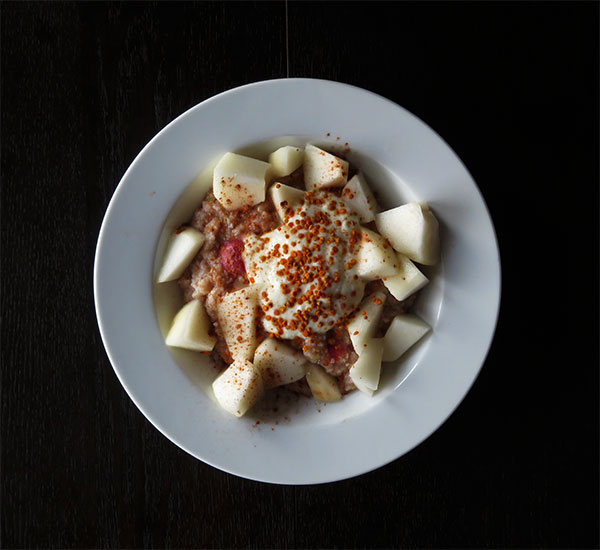 A breakfast staple: 10-grain hot cereal from Bob's Red Mill. I like it cooked with frozen sour cherries. No need for sweeteners when topped with fresh pears, yogurt, cinnamon and bee pollen.
Lunches
As usual, this week's lunches were leftovers from dinner or the prior weekend's meals. Just reheat in the microwave or toaster oven. So I'm going to skip right on to dinner where I will be revisiting these dishes anyway. But here's a preview: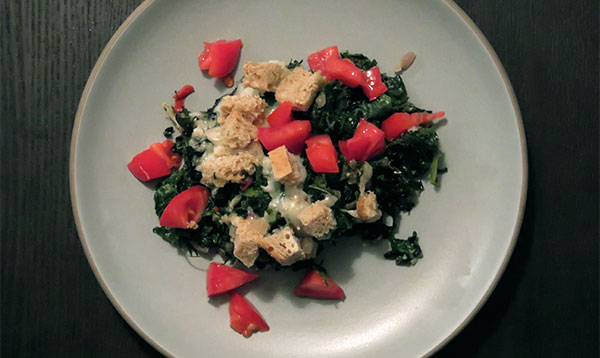 The number one best way to use lots of greens? Make a casserole. Here topped with Beecher's No Woman cheese and frozen croutons before baking. Served with fresh tomatoes.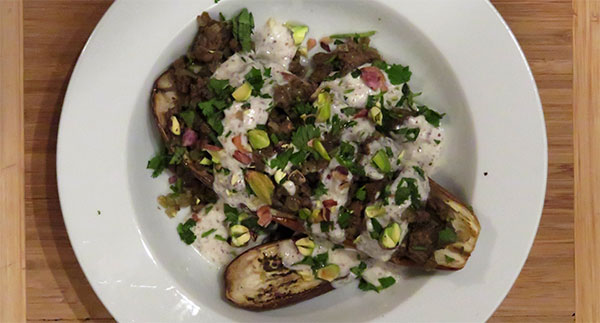 Roast eggplant halves topped with cumin-spiced ground beef from Skagit River Ranch. Garnished with Yogurt and Sumac Sauce, pistachio nuts and fresh cilantro.
Dinners
Let's review my fruits and vegetables from the last couple weeks. Recall I got a CSA box the day after returning home from Spain. Two days later I picked up a double box. Then, the next week I picked up another double box—the last of my summer farm share. But now it's fall, so I have a month of fall CSA boxes to look forward to.
Monday's dinner followed a basic formula: protein–starch–vegetable. Black beans from the freezer, corn from an earlier box, and mixed peppers from the most recent box. The corn was already more than a week old—not ideal—but with eight ears it took me a while to use it all. Fortunately, corn on the cob does store surprising well. That is, if you don't cook it first and forget about it.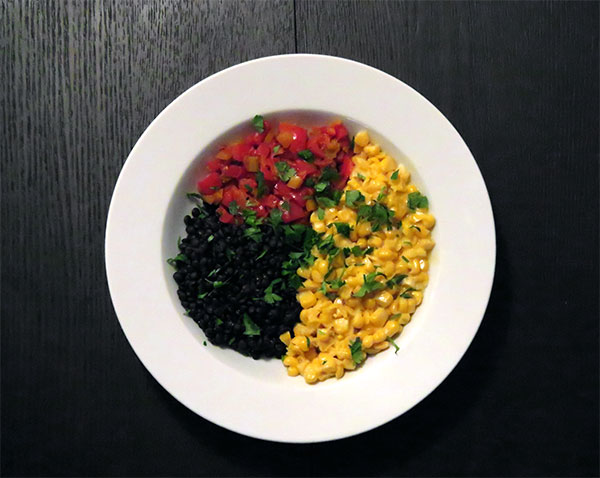 Every ingredient matters for the most satisfying simple meals. Black beans cooked from scratch, peak-of-the-season creamed corn, and braised mixed sweet peppers. Garnished with fresh cilantro.
These three ingredients served me well for impromptu breakfasts and dinners throughout the week.
Speaking of, one of the simplest meals to improvise? Vegetable pasta. It may look simple, but I would never plan this exact dish. There are too many components. It incorporates the leftover eggplant, ground beef, and braised peppers. Plus a pesto made with cilantro and brazil nuts that I threw together over the weekend. In fact, the only thing we did for this dinner was to roast the radishes (and cook the pasta).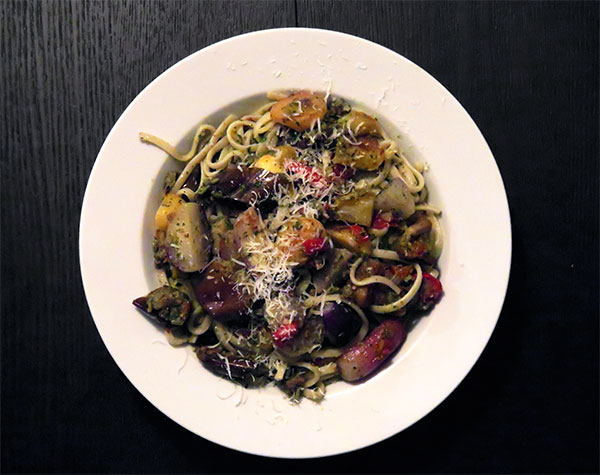 Fresh linguine tossed with roast eggplant and radishes, cumin-spiced ground beef, braised sweet peppers and cilantro-brazil nut pesto. Garnished with Parmigiano-Reggiano cheese.
Continuing with the leftover theme: black bean and roast vegetable soup. I made this with corn broth instead of chicken or vegetable stock. I literally did nothing for this soup other than stir the ingredients together. Then I let it all simmer.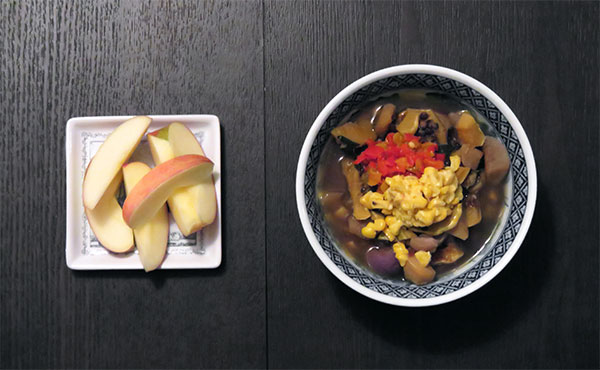 Almost any leftover is a good addition to soup! Cooked black beans, roast squash slices and radishes were combined with corn broth. This soup was simmered, then garnished with creamed corn and braised peppers. Served with apple slices.
By Thursday, I was finally starting to make a dent in my produce drawer. But after driving my parents to the airport, I got both their cat and dog along with more food! And let's not forget, Thursday means another CSA box. In any case, the day got late and we were hungry. A quick snack idea that I stole from one of my vegan friends: baked sweet potato wedges and peanut dipping sauce. I had made it before but not for a long time and only with parsnips or other vegetables. My mom had left me a large sweet potato and the ingredients to make peanut sauce are pantry staples.
I improvise the peanut sauce based on this recipe I have bookmarked in kitchenlister. And I included this recipe for sweet potato fries in a recent meal plan. Fall is the season to try this snack! Or in our case, we went back for seconds, and that became dinner. Peanut sauce is easy to make and it's good with many raw or cooked vegetables for a snack that's always in season.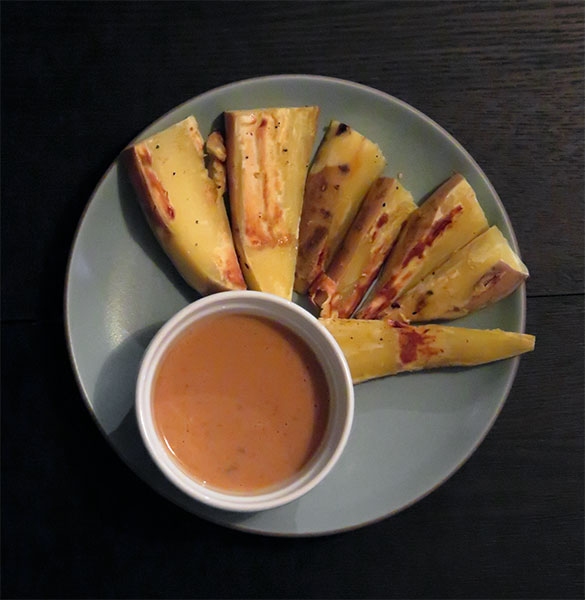 Don't buy peanut sauce. It's easy to make with just peanut butter, garlic, soy sauce and water. Or add lemon juice, vinegar, ginger, cayenne or red pepper flakes for more flavor. Serve with vegetables (baked sweet potatoes shown here) for a delicious snack.
One of the great things about late fall fruits and vegetables—most items store well. Yet, there is still a ton of variety available. It's like the best of both worlds between summer and winter. So even though I had a new CSA box, I could still focus on using up some of the stragglers from previous weeks. Although potatoes are year-round diet staples for many, I mostly eat them in late fall and winter. Pan-fried potatoes are perfect comfort food. (Perhaps because they were a weekend breakfast staple in my house growing up). Adding other vegetables to the pan makes for a nutritious dinner.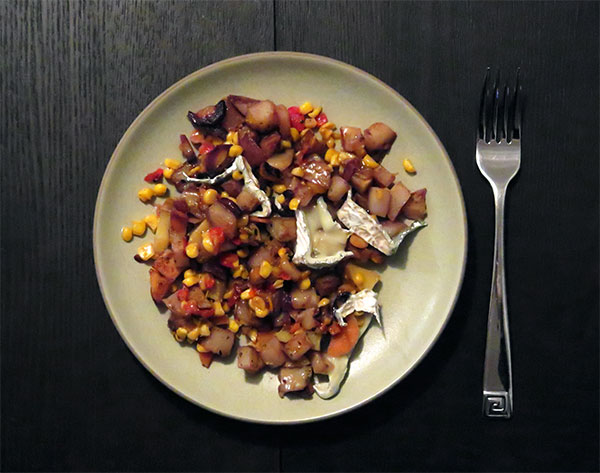 Start with a base of pan-fried potatoes and onions, then get creative. Here I added rainbow carrots and garnished the plate with creamed corn, braised sweet peppers and Seastack soft-ripened cheese from Mt. Townsend Creamery.
A Note About the Grocery Store
Fried eggs? Creamed corn? Matcha lattes? The careful reader might have noticed that last week, I had no eggs, milk or cream. While I could have ordered these items for delivery with my CSA box, I didn't. Instead I went to the store. Yes, there you have it. I do go to the store on occasion. But really, it's something like 6‐8 times a year. And in fact, I didn't actually need to go. I went because my 10% off coupon for Central Co-op was about to expire. Between my membership discount and Chinook Book coupons, I get 10% off almost every trip I make. If you're unfamiliar, Chinook Book offers great deals for sustainable shopping in certain cities.* I saved more than the cost of the book on this one shopping trip.
In any case, a little planning goes a long way with grocery shopping (or rather, not shopping). I don't rely on discount stores and inferior products to save money. I eat better and spend less by keeping staples on hand and relying on local fruits and vegetables in season. And hey, I'm going to say it—by keeping track of it all in my kitchenlister account. What I have, what I need, what I've made and what I want to make. Organization helps me limit my shopping and food waste. Instead, I spend time and energy on the important stuff: cooking and enjoying meals.
Cook and shop in this way for these benefits:
Buying the best ingredients
Supporting local businesses
Saving money
Of course, do this the wrong way, and you'll just end up wasting food. But I only buy staples. Like what? Oils and vinegars, condiments, long-storing cheeses, butter, and frozen or dried fruits. Also, bulk items like dried beans, grains, flours, nuts and spices. Often, I don't decide the specific ingredients until I'm there. In this way, I can choose based on what's on sale. This may not amount to much savings for inexpensive items, like dried beans and other legumes. But it makes a huge difference for expensive ingredients, like nuts or oils. To be clear, I'm not choosing an inferior product to save money. I'm simply picking pecans over walnuts or black beans over pinto beans. I understand these ingredients are interchangeable. In reality, I usually have all of these things in my kitchen. But I choose to buy them in bulk only when they are on sale. I also pick up a few perishable items during these infrequent grocery store trips. Like milk. And because I don't buy it often, I'm sure to make the most of it. See here and here.
*For 2017, kitchenlister is offering a coupon in the Puget Sound Chinook Book and Mobile App. Check it out for a substantial discount on an annual membership.
---
OR START A FREE ACCOUNT NOW.
If you'd like more information about any of these fall meals, leave me a comment.
Read more about my "Week in Review" posts.