The Problem
Getting one full CSA box …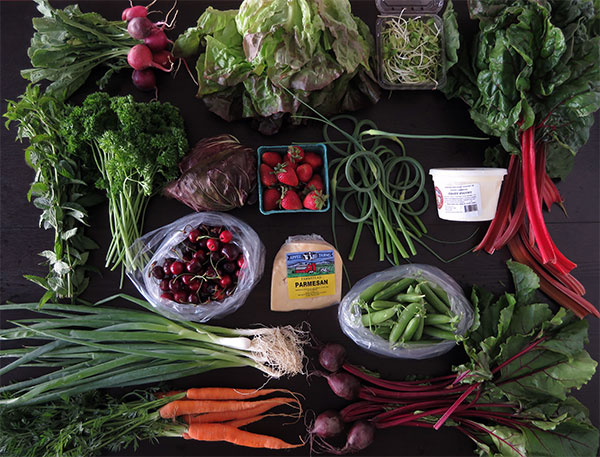 Week 3 of the Family-size CSA box from Growing Washington. Top half (left to right): red and purple radishes, mint, curly leaf parsley, butterhead lettuce, radicchio, strawberries, sunflower sprouts, garlic scapes, and Swiss red chard. Bottom half: sweet red cherries, scallions, orange carrots, sugar snap peas, and red ace beets. Also shown: handmade yogurt from Silver Springs Creamery and Farmstead Parmesan cheese from Appel Farms. These add-ons are available as full-season shares or weekly purchases.
Two nights before going out of town. What to do with all this produce? Share the bounty and invite friends over for dinner to help eat it all up.
The Solution: A Really Big Dinner Salad
Here's the ingredients I used from this week's box for my first meal dinner salad: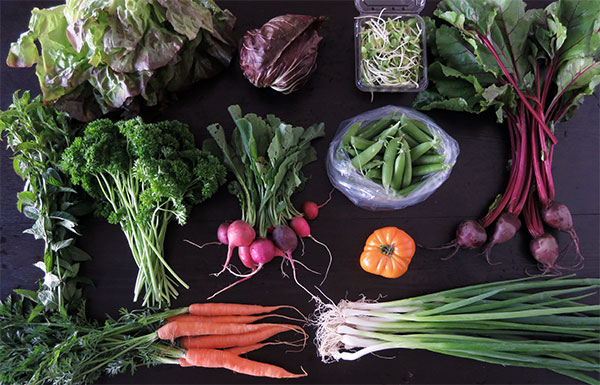 My salad ingredients from Week 3 of the Family-size CSA box. Top half (left to right): butterhead lettuce, mint, curly leaf parsley, radicchio, red and purple radishes, sunflower sprouts, sugar snap peas, and red ace beets. Bottom half: orange carrots and scallions. Also shown: orange heirloom tomato from the farmers market. That's a total of 10 items from my box.
Look familiar? Yes, I'm using just about everything I got in this one meal. Probably not all of it. But I'm prepping everything as if we might eat it all. What's not included? The fruit, greens and garlic scapes. (Although, as you'll see, I did cook the scapes the same night.)
I prepped all the veggies and let guests assemble their own salads.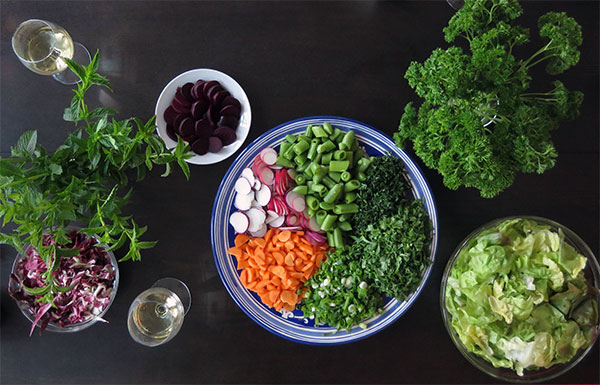 Dinner salad ingredients prepped and assembled for guests to make their own creations. On the plate (clockwise from top): bite-sized pieces of sugar snap peas, minced carrot tops (leaves only), chopped radish greens, sliced scallions, carrot half-moons, and radish rounds. Other offerings: washed, dried and torn butterhead lettuce leaves, shredded radicchio, roasted beet slices, and bouquets of fresh mint and curly leaf parsley. Not shown: sunflower sprouts and heirloom tomato slices.
I (meaning Matt) also offered two homemade salad dressings. One was a basic mustard vinaigrette and the other had preserved lemon, mint and parsley. Where's the protein? I could have also set out cheese, nuts, and eggs. But I had a beautiful piece of black cod from BestCatch Seattle.
Always serve fish soon after it's finished. I waited for our friends to arrive before cooking the black cod. I kept it simple—roasted in a mixture of soy sauce, honey, harissa and scallions on a bed of garlic scapes. While waiting for the fish, I (again, meaning Matt) mixed up some pre-dinner cocktails—Hedge Trimmer gin martinis with cassis. Then we enjoyed a leisurely meal.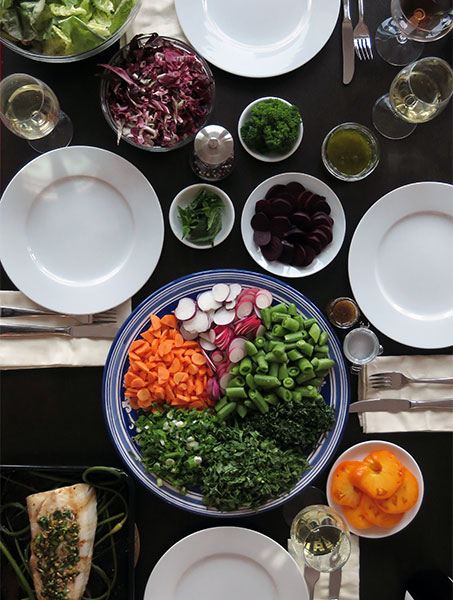 Emphasis on the vegetables. I call it Big Dinner Salad with a Side of Fish.
This approach is less work for me and allows guests to pick and choose what they want to eat. It also makes the best leftovers. I can choose to make fresh salads with all the prepped (but not dressed) ingredients. Or I can turn the prepped ingredients into another meal. I'm an overachiever so I did both.
Leftover Salad
Likely not what comes to mind when you think of leftovers: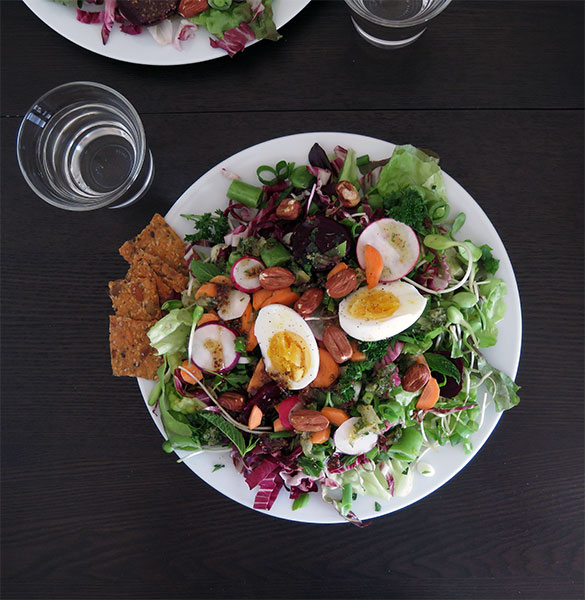 Simple lunch. Dump the two vinaigrettes on the already-washed lettuce greens and toss. Add whatever you want of the already-prepped veggies. With no leftover fish, I added hard-boiled eggs, dry-roasted hazelnuts and crackers to complete this meal.
Okay, but I had to cook the eggs, right? Well, sort of. Here was breakfast: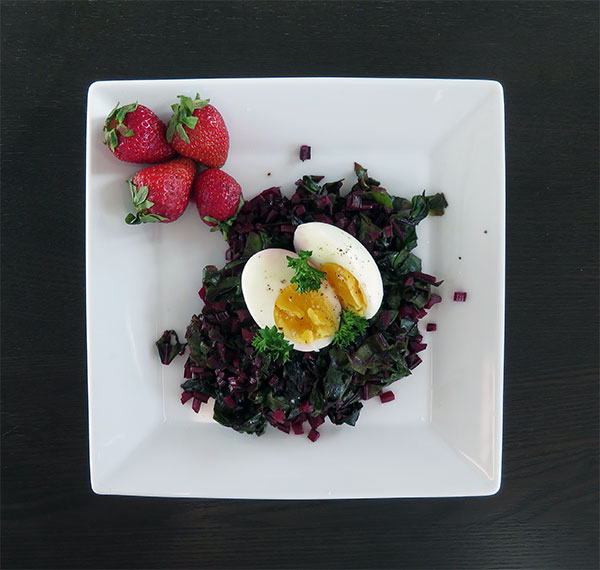 Greens for breakfast are healthy and delicious. Sautéed beet greens with hard-boiled eggs and fresh strawberries.
Boiling four eggs (or six or eight) is the same amount of work as boiling two.
The Last Meal Before Leaving
The goal? Use everything. Or freeze it. A quick tally of what remained by dinnertime: prepped veggies, greens, herbs and garlic. The first step was obvious. Braise the leftover vegetables with the red chard.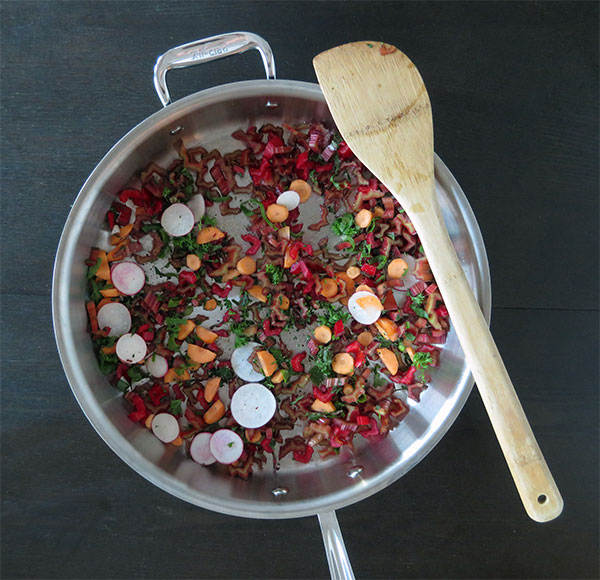 Braising the rest of the leftover prepped vegetables from my big dinner salad with red chard stems. I added the chopped chard leaves (not shown) after the vegetables softened.
To this, I added kale, bratwurst and wheat berries. Remember last week's braise? In essence, whatever I needed to use up went into my pasta dinner.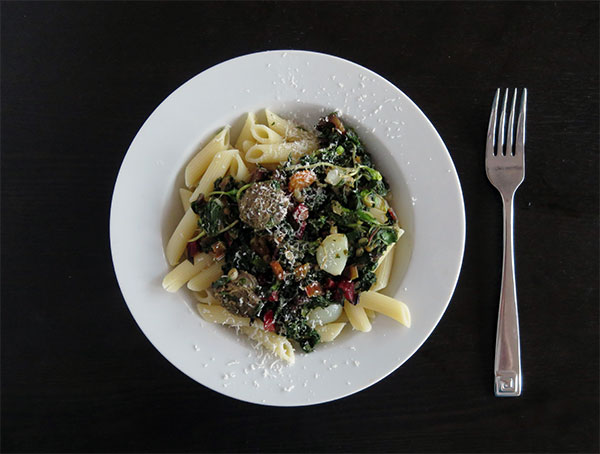 Penne pasta with braised vegetables, chard, kale, bratwurst, wheat berries, and roasted garlic. Finished with Parmigiano-Reggiano cheese.
With the items that didn't make it into my dinner, I made a pesto while the pasta was cooking. It featured parsley, mint, carrot stems, garlic scapes, soy sauce, sesame oil and brazil nuts. The pesto is now in my freezer awaiting a last-minute meal.
Fridge, Pantry and Freezer Staples
After coverage of kitchen staples (plus updates in my Week 1 CSA and Week 2 CSA posts), I only have one item to add to the list. It's a bit of a specialty ingredient but one worth checking out: preserved lemons. Like fresh lemons, they're quite versatile. But I'm still exploring how to use them without over-salting the dish. The vinaigrette above is an easy start—do leave out the salt though.
It's reasonable to assume the black cod was also in my freezer. In fact, it was swimming in the ocean mere days before I ate it. I'm an overzealous freezer proponent. But if there is one thing I recommend you don't freeze, it's fresh fish.* I've lived my entire life near water, so I don't doubt I'm picky about fish. You can make frozen fish taste completely adequate. But that's the best you can hope for.
So there you go. Lots of vegetables. Two nights and a day. No problem. (Wondering about the strawberries and cherries? We ate them. Fruit is a handy snack like that.)
---
*To be clear, I am referring to fresh fish that you freeze at home. Although fresh fish caught yesterday is hard to beat, flash-frozen fish can be top quality. To support many sustainable fisheries, flash-frozen fish is often the only option. Still, plan to use flash-frozen fish sooner than you might other freezer staples.
OUT OF NEW IDEAS FOR ALL YOUR FRESH FRUITS AND VEGETABLES? KITCHENLISTER IS HERE TO HELP. CREATE A FREE ACCOUNT NOW.
If you'd like more information about any of these July CSA meals, leave me a comment.
Read more about my "Week in Review" posts.