This year we condensed ski season into one month. March started in the Methow Valley—the second largest, cross-country ski system in the US. The month ended at a ski-in lodge near the Whistler nordic area—you know, of Olympics fame. Between those weekends, I did very little grocery shopping. Instead, I relied on a lot of freezer and pantry staples and a few "real food" conveniences.
Cheese Fondue
A frozen chicken on hand provided a simple roast chicken dinner and plenty of leftovers. I wrote a separate post on stretching a whole chicken over many meals. Read it for tips on buying pastured poultry and healthy ways to cook it. The one meal from our weekend that I didn't mention: cheese fondue. A special indulgence that feels well-earned after three days of skiing.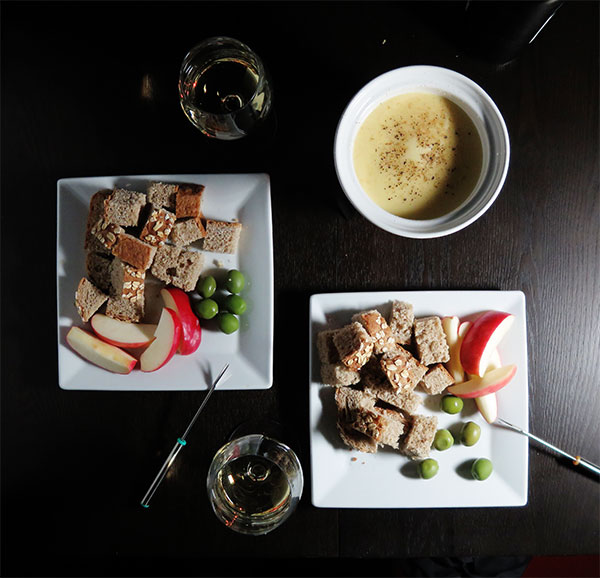 Gruyere cheese fondue with oatmeal bread cubes, Pink Lady apple slices, and Castelvetrano olives for dipping. Served with white wine.
Cheese fondue is simple to make. Heat the wine, then stir in grated cheese with some cornstarch to thicken it. I like to grate fresh nutmeg and black pepper over before serving. We ate it with an oatmeal bread from a local bakery because that's what we had. It tasted good but I would still recommend using a crusty bread instead.
The most important thing about fondue is good-quality cheese (and one that melts well). French Gruyere is an all-purpose fondue cheese. (Swiss Gruyere or Emmentaler is also good and may be a little cheaper.) Instead of substituting an inexpensive cheese, make less fondue. After all, it's melted cheese. How much do you think you're supposed to eat anyway?
Hot Cereal (Yes, Again)
Hot cereal never gets old. At least, not when it's cold outside. I know I've included plenty of ideas already for this oh so healthy and convenient breakfast. But I haven't shown you one made by my husband. Goes to show that even the same ingredients are appealing when presented in a different way.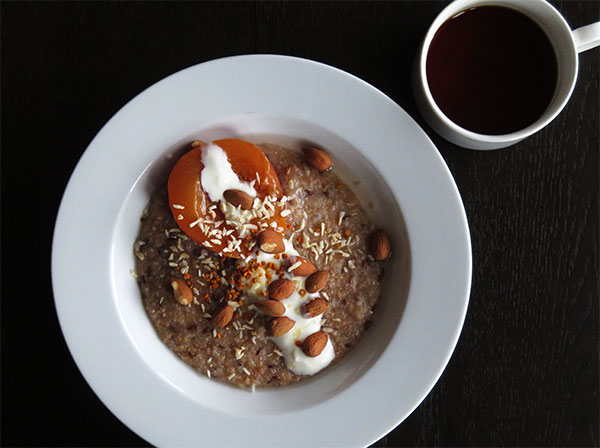 Old World Cereal Blend from Bluebird Grain Farms topped with home-canned nectarine halves, yogurt, almonds, toasted coconut and bee pollen. Served with black coffee.
Fried Eggs on Toast
Eggs are a convenient little package that work for every meal and can be cooked in so many ways. I called knowing how to cook eggs an essential life skill. I suspect most of us only make them one or two ways. My guess is people are most familiar with fried eggs. So here's some easy accompaniments worth trading out the side of bacon for:
Fried eggs on homemade whole wheat toast. Eggs layered with slow-roasted tomatoes and melted blue cheese (left) and chopped kale sautéed in lemon and garlic (right).
I used homemade whole wheat bread that I baked, sliced and froze about two months ago. Pull a slice or two from the freezer, toast, and it's ready to use. Of course, you can do the same thing with a good loaf of bread from a local bakery. But nothing compares to homemade bread—even when using frozen homemade bread.
More Eggs, Japanese Style
On a high from last week's Japanese-inspired successes, I might have taken things a little too far. Tamago-yaki is quick to make but rolling this overstuffed omelet was a bit unwieldy: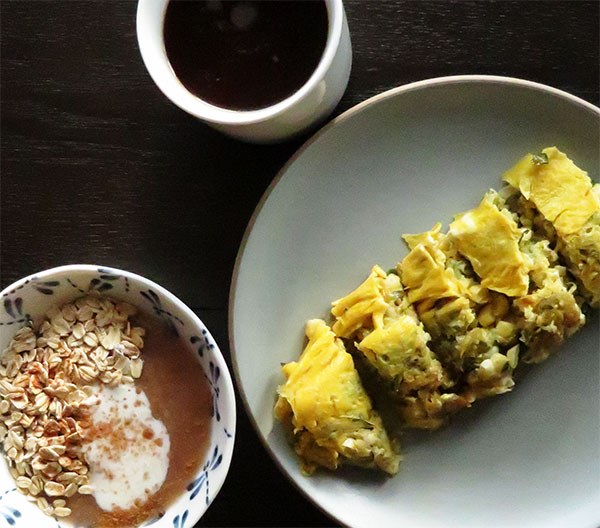 Tamago-yaki rolled with sautéed broccoli and corn. Breakfast also included (previously frozen) homemade applesauce topped with rolled oats, yogurt and cinnamon, plus black coffee.
Baking
Although I didn't make any more bread in March, I did a lot of baking over St. Patrick's Day weekend. Baking has a reputation for being too much work. But there are many baked goods—quick breads, muffins, pancakes, tarts, and even yeast breads—that are simple. I actually started baking long before I ever cooked dinner. More recently, I've experimented with whole grains and less sugar. I've got lots of tips to share so be sure to read my post about healthier baking.
One of the keys to make baking convenient is having ingredients on hand. Things like frozen berries and nuts to throw into batters. In fact, frozen fruits—particularly summer fruits—are essential for winter. Frozen summer berries give a bright color and burst of flavor that's often missing in winter dishes.
Finally, there are times when I too am stumped over how to use up the last bit of some ingredient. This month that ingredient was almond paste. (Remember my birthday cake?) This quandary is a reminder of one of my favorite things about kitchenlister. It helps me remember to use foods up and gives me ideas about what to do with them.
---
LIKE SOMETHING YOU SEE HERE? TRACK WHAT YOU HAVE AND MAKE YOUR OWN EASY, IMPROMPTU MEALS. CREATE A FREE ACCOUNT WITH KITCHENLISTER TO GET STARTED.
If you'd like more information about any of these late winter meals, leave me a comment.
Read more about my "Week in Review" posts.