My resolution for 2017 was to address one goal a month. I don't usually make resolutions. But this resolution felt noncommittal; I resolved to decide on a goal when the time came. Perfect! The "do-it-tomorrow" syndrome. Anyone familiar? It's my husband's favorite planning app. Not that he actually uses it. Because (let's be honest), it's relatable … just not helpful.
In January, I started the year with the goal to get more sleep. I would strive for eight hours a night. (I hear you laughing.) But this one was an easy choice because I was tired. Plus, I've always had trouble instituting a bedtime. So why am I bringing this up at the end of the month? Because it wasn't relevant to food. But it is! Being rested means you have more energy to cook. It also means more willpower to make healthier food choices and resist temptations.
Neither of those, however, are particularly relevant to me. I already cook. And I don't need willpower to resist junk. I don't have any, therefore I can't eat it. Pretty simple. (Caveat: Good-quality chocolate is not junk food.) By junk, I mean ultra-processed food. You know, the kind of thing with ingredients you can't pronounce. And even if you could, so what? I still don't know what they are.
Now it's February. I want this new goal to be about food, which makes it germane to this blog. I have notions of drinking alcohol too often. Sometimes, I wonder about getting enough protein. Then there's my perpetual goal for cooking to be both spontaneous and fulfilling. While I'm still contemplating my objectives, I've already reached some conclusions about protein. So that's what I'm sharing with you this week.
High-Protein Breakfasts
Ham and eggs are a traditional protein-packed breakfast choice. Still, I suspect most of us only eat this combo once in a while. As you might expect, I turn to my handy, whole-grain, hot cereals. Hot cereals are a good base to start from; most have about 6 grams of protein per serving. But I'm aiming for 10 grams at breakfast. That encourages me to add dairy, nuts, and other high-protein "extras." All but one of my breakfasts this week were between 11 and 12 grams of protein per serving.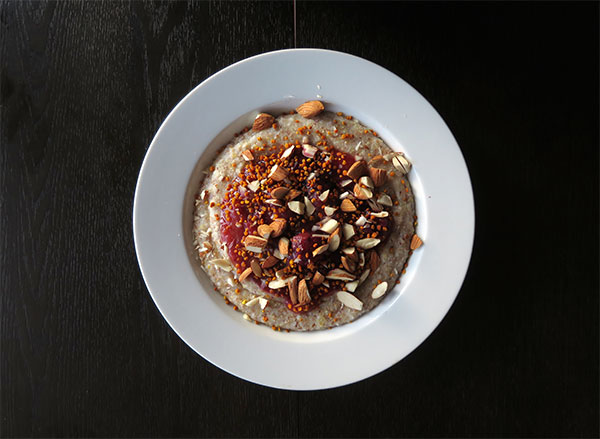 Bob's Red Mill 10-grain cereal topped with blackberry applesauce, almonds and bee pollen. Adding coconut flour and flaxseed meal to the hot cereal mix increases the protein to 11.6 grams.
The same concept applies to other breakfast options. Oats, whole-grain toast, and chia seeds all have about 6 grams of protein per serving. Again, start with a healthy dose of protein, and add toppings to make up the difference.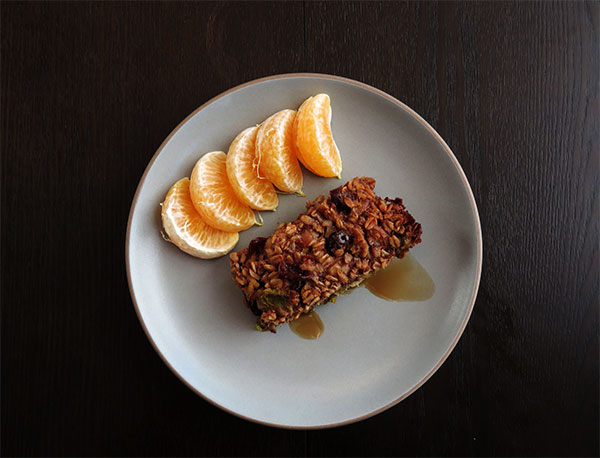 Reheat leftover rhubarb baked oatmeal and drizzle with boiled apple cider. Serve with mandarin orange segments for a breakfast with 11.3 grams of protein.
This next breakfast combines all my favorite tricks: sweet and savory tastes, freezer convenience and rarely-used (i.e. special) ingredients. Have I even mentioned eating avocados before? C'mon now, it's been almost six months so that's saying something for a food blog. Using avocado and eggs, packing in 11.7 grams of protein was easy.
Two toasts: one sweet, one savory. Raisin bread with apricot rose spread (left). Avocado and 8-minute boiled egg on toasted golden malted wheat bread (right). Avocado drizzled with olive oil and sprinkled with salt, pepper, and smoked paprika. Served with mandarin orange segments.
The obvious way to make chia pudding is to use yogurt, milk or a non-dairy alternative. Since I didn't have any of that, I went with coffee. (More of a high-caffeine rather than a high-protein breakfast?) Still, one serving contained 10.7 grams of protein. I'd say not bad.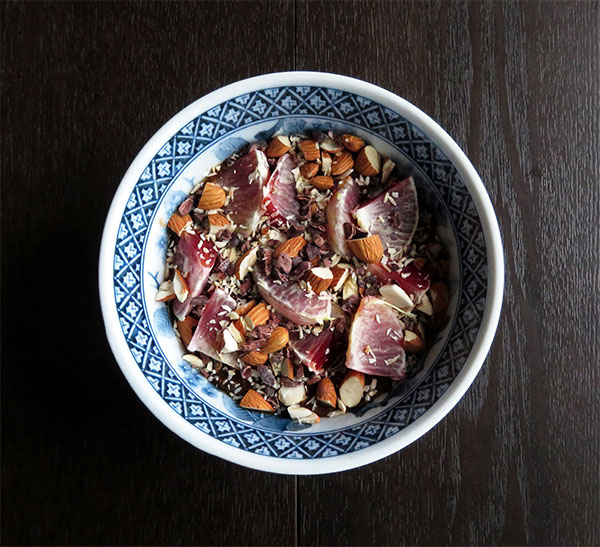 Coffee chia pudding made with frozen bananas and cherries. Flavored with date sugar, ground cinnamon and cardamom syrup. The topping was blood oranges, chopped almonds, toasted coconut and cocoa nibs.
Leftover Lunches
As usual, lunches were leftovers from dinner. But sometimes you don't have any leftovers. What to do? A few key staples and some ingenuity can result in fantastic creations.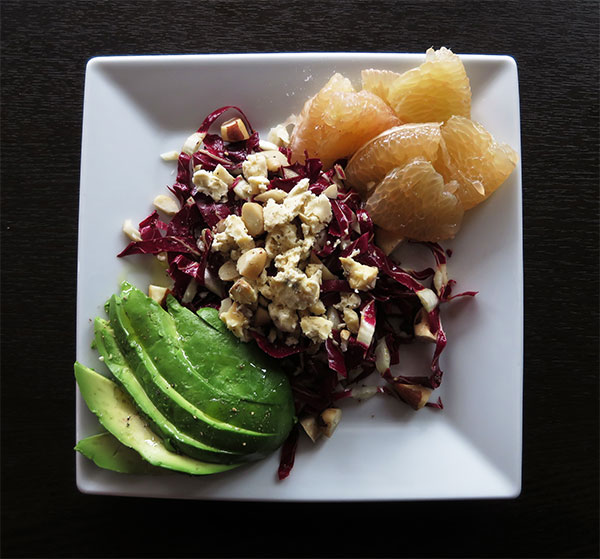 Radicchio salad served with pomelo, avocado, brazil nuts and blue cheese. Salad dressing made with apple cider vinegar, honey and whole-grain mustard.
Salad is, in fact, a reliable impromptu lunch. That is, if you do it right. Most people botch it. Those who claim a dislike for salad are more likely bored with it. Seasonal greens are key. Lettuce is perfect for summer. But in winter, use kales, cabbages and chicories (like endive and radicchio). The advantage of these is convenience; dressed winter greens last until lunch (or the next day). Toss with fruits and vegetables, nuts and cheese, or assorted extras, and you have a delicious meal. Even better if you add bread or crackers. Don't forget how simple a vinaigrette is to make—and remember to throw out that bottled dressing in your fridge.
But what about protein? While not a high-protein lunch, my salad had a respectable 10.9 grams. Which leads me to the afternoon complement to lunch …
Healthy Snacks
Healthy snacks can take many forms. The most important thing to know is to make them yourself. When talking about snacks, make often simply means assemble. If you take nothing else from this post (or my blog, for that matter), remember this: use real ingredients. Nothing else will make the same impact on your cooking and enjoyment of food.
Fruit, nuts and cheese—in any combination—make reliable snacks for minimal effort. A favorite high-protein snack is dates with peanut butter. It only requires two ingredients, both of which I always have in my fridge. You can use other dried fruits (I recommend figs) and other nut or seed butters. Yet, the sweetness of dates most resembles some of those classic pairings: PB & jelly, or PB & honey. Though not required, garnishes are fun.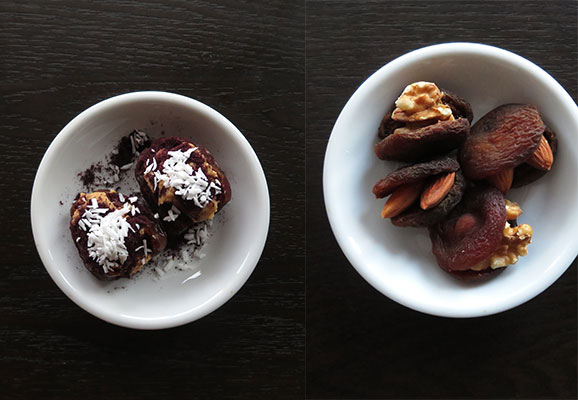 Dates stuffed with peanut butter and garnished with blueberry powder and coconut (left). Dried apricots filled with almonds and walnuts (right).
While only half the protein of cheese and nut butters, don't forget the finest dark chocolate. Paired with dried fruit and nuts, an ounce or two makes a very satisfying snack.
Meatless Mains
I doubt anyone who eats a lot of meat is too worried about protein intake. It might be worth considering though since the body needs protein throughout the day. Yet, the American diet is a protein-heavy dinner with little to none earlier in the day. Despite this, the most common concern about vegetarianism, and especially veganism, is protein. How can people get an adequate amount without consuming meat, eggs and dairy? It's as if those asking have forgotten about major food groups, like legumes and whole grains. Even certain vegetables have significant protein content, and all have some.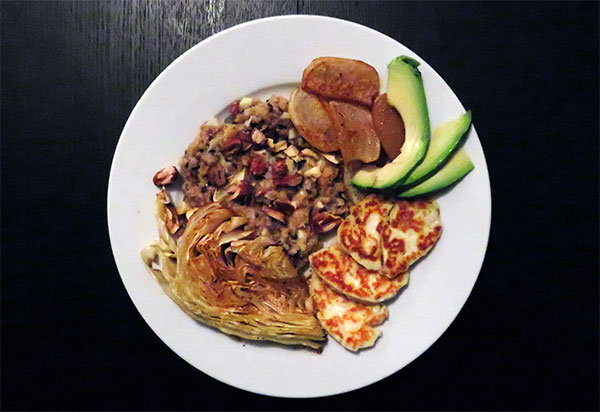 Bluebird Grain Farms's Potlatch Pilaf cooked with split red lentils and Meyer lemon, and sprinkled with hazelnuts. Pilaf is topped with green cabbage and black radish roasted in smoked paprika, and served with fried haloumi cheese and sliced avocado. This vegetarian meal clocks in at 31.5 grams of protein.
I'm willing to bet that many look at that photo and think, great but I need more protein than that. And my response is, really, you need more than 30 grams of protein in one meal? Depending on your caloric needs, this dinner may be half of your daily recommended amount. Admittedly, the haloumi cheese makes a significant contribution. Still even without it, my leftovers the next day totaled 24 grams of protein.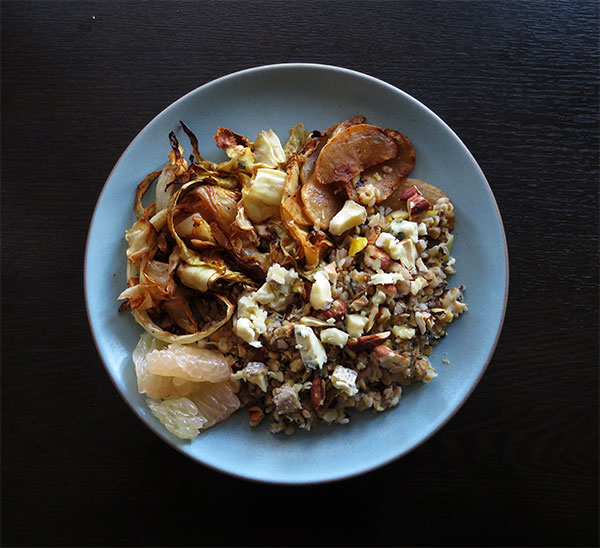 Leftover potlatch pilaf and red lentils served with roasted vegetables, blue cheese and pomelo.
A few years ago, I watched a talk given by a vegan mountaineer. She mentioned she ate potatoes for every meal during months-long expeditions. Potatoes? They are so often disparaged it's easy to forget civilizations depended on them. One of the potato's many assets: protein. Many people don't realize that vegetables contain protein—true, not enough to be considered protein foods—but every gram counts. Some vegetables, like potatoes, are higher in protein than others. It's worth remembering to combine low-protein veggies with higher-protein ones. So use carrots, squash and cabbage in a dish with tomatoes, kale and corn. And while we're on the subject of squash, did you know that an ounce of pumpkin seeds packs 5 grams of protein? Better add that to the snack list.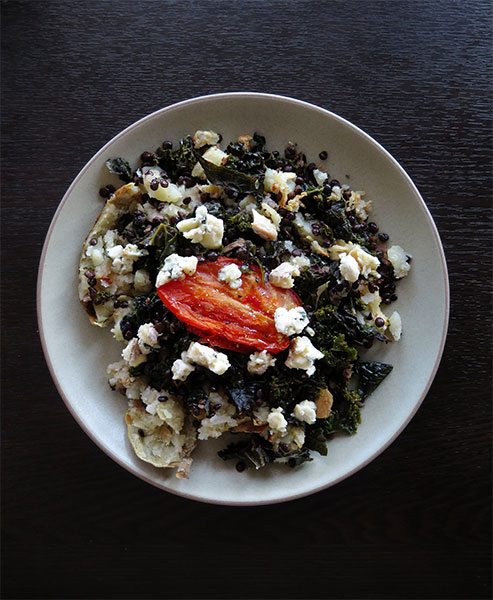 Baked potatoes topped with vegetables makes a simple dinner. Here kale is sautéed with garlic, olive oil, butter, baharat, cayenne, and dried porcini mushrooms. Cooked black lentils are added at the end and the mixture is finished with soy sauce and rice wine vinegar. Top with blue cheese and a slow-roasted tomato for an impressive 18 grams of protein.
Although these last meals are not high-protein, per se, they finish off the day with about 15 grams. That's enough when complementing a protein-filled breakfast and lunch.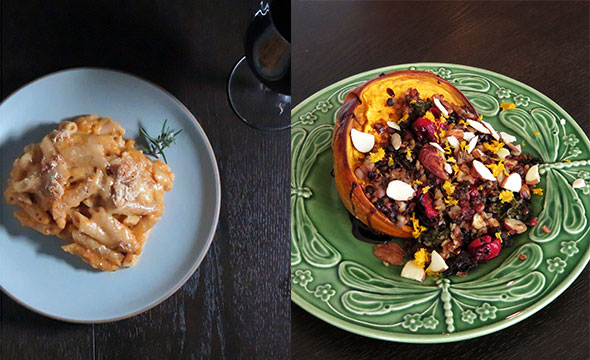 Pumpkin mac and cheese with fresh rosemary (left). Adapted from recipe for "Winter Squash Mac and Cheese" from Joy of Cooking. Roasted pumpkin stuffed with leftover potlatch pilaf, sautéed kale, black lentils, cranberries, and hazelnuts (right). Dressed with leftover salad dressing and garnished with sliced almonds and lemon zest.
The Finale
Remember my granita from last week? Not high-protein … or any protein. Still, it's a light dessert to keep in the freezer. One night I served it with a couple slices of pomelo. Another night, a drizzle of Aperol.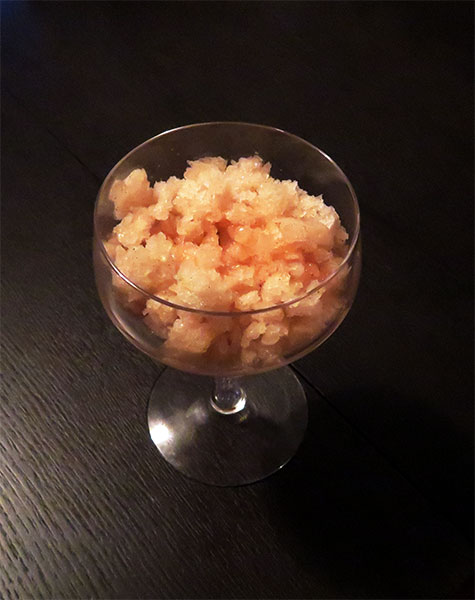 For a light dessert, try a granita. Here made from the leftover syrup of home-canned fruits and drizzled with Aperol.
Why the Focus on Protein Anyway?
Good question. Society obsesses over protein. (Is that the explanation for the parade of fad diets from Atkins to Paleo?) I agree that getting enough protein is imperative for health. But why the worry from people who have seldom seen a green vegetable in their life, let alone eaten one. Is the obesity epidemic a result of too little protein? Hardly.
In any case, tracking my protein intake for a week was a useful exercise. Really, tracking anything for a week or two always reveals useful information. Protein was on my mind all week. I found myself reaching for legumes and whole grains more often due to this new awareness. But now I'm convinced that even as an occasional meat-eater, I don't need to worry about tracking it.*
So that's the lesson. When contemplating healthy meals, first think vegetables. Then think protein. In both cases, it's all about variety and quality. And for all you doubters who are about to bring up complete proteins. Again, I say variety, variety, variety. It solves so many problems.
But for good measure, I made sure to eat 20 oysters on Saturday. That's good for at least 30 grams of protein.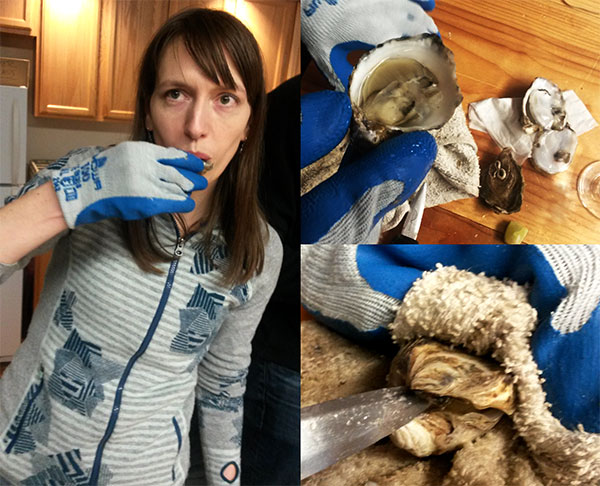 February oyster class at Hama Hama Company in Lilliwaup, WA. Six oyster varieties and lots of shucking.
*Any discussion around protein is controversial. My conclusions assume a daily target of 60 grams of protein. I further split this amount up throughout the day. I aimed for 10 grams each for breakfast and snacks, and 20 grams each at lunch and dinner. This is above the USDA's recommendation, which most people interpret as a minimum. Sixty grams is an average that accounts for the protein needs for both of us. But I'll be fair. You may believe that mornings start with energy shakes and 30 grams of protein. If so, you'll no doubt find my reasoning flawed.
---
NEED MORE MEAL IDEAS? GET RECIPE INSPIRATION BY CREATING A FREE ACCOUNT WITH KITCHENLISTER.
If you'd like more information about any of these high-protein meals, leave me a comment.
Read more about my "Week in Review" posts.