I'm not a fan of cooking up a batch of meals on the weekend just so you can eat the same thing all week. Making a pot of beans, which can create a variety of meals, is one thing. But spending the weekend to cook for the week neglects many key points:
If I'm cooking something on the weekend, I likely want to eat it on the weekend.
Spending a bunch of time on the weekend to "save" time during the week is a waste of the weekend.
You need to cook a large quantity of food to actually eat it all week.
And even so, do you really want to eat the same thing all week? Who could blame you for ordering pizza by Wednesday?
This type of cooking flies in the face of the variety and interest I crave require in my meals. It's what actually keeps me returning to the kitchen meal after meal. Otherwise, I could eat whatever crap is on offer down the street. No cooking needed. Weekend or otherwise.
As a minor—major, in my mind—side point, eating the same thing all the time is not a nutritious diet. Skinless, boneless chicken breasts are convenient (or so I hear). Does that mean you should plan all your dinners to include them? Similarly, kale, blueberries and avocados are "superfoods." Yet should you ignore potatoes, raspberries, and eggs? Variety is what keeps meals interesting. Moreover, all whole foods offer a selection of nutrients. By focusing on variety, your body gets everything it needs.
So instead, I want to show you the type of weekend cooking I am a proponent of. It applies to weekday cooking as well, actually. Keep reading for details, but I'll give you the gist. Always take the opportunity to make a little bit more. Especially when more means little to no extra work.
Background: The Weekend's Activities
We got food from a variety of sources this weekend. Not all of it was planned. As with cooking, I like to take opportunities when they arise with food shopping too. First, wine. We currently belong to two wine clubs. The Bar Ferdinand Bottle Society offers pick-up down the street. Picking up our Lachini Vineyards wines requires a drive to their tasting room. We only go to Woodinville twice a year, but thanks to Chinook Book, I saw there was a market in the area. I'm always happy to discover new local food products. I bought Samish Bay Vache cheese (like a tangy cream cheese) and Bow Hill blueberry powder. I also received the first shipment from my newest CSA—grains and fresh milled flours from Bluebird Grain Farms.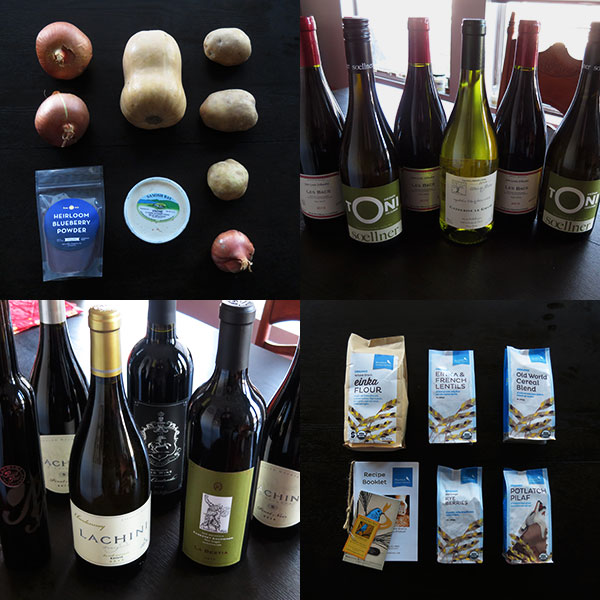 Winter produce and local specialty products available from 21 Acres (top left). This month's selection of wines from Bar Ferdinand (top right) and Lachini Vineyards (bottom left). The first CSA shipment from Bluebird Grain Farms (bottom right).
With the beautiful weather, we decided to go to one of my favorite places in the city, Olympic Sculpture Park. While walking past Pike Place Market, I can't resist stopping for some treats. Cappuccinos at Seattle Coffee Works, crumpets at The Crumpet Shop, and a "smog" at Ghost Alley Coffee. And there's always some place left for next time. We made it back before the Capitol Hill farmers market was over. There's quite a difference now compared to the bounty of offerings in December. Still, we had some great finds (as always).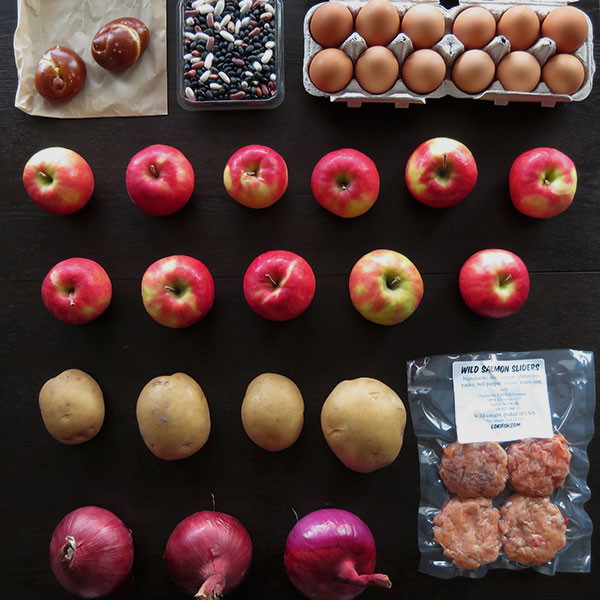 The selection at Seattle's farmers markets in January includes Yukon Gold potatoes, red onions, Pink Lady apples, eggs, dried mixed beans, frozen salmon patties and pretzel knots.
Weekend Cooking
Perhaps a clarification is needed. I'm not opposed to cooking on the weekend. I just don't want to be required to use the weekend in preparation for the week. So I did do quite a bit of cooking. But it was all easy, and of the last-minute, no-planning-required type. With each meal, I made a little extra knowing we could eat it during the week.
Saturday's Spicy Indian Cabbage and Potato Curry used avocado oil, Aleppo pepper, frozen chiles, yellow onion, and frozen tomatoes. Served over brown rice.
Sunday's quick breakfast relied on our previous day's drive to Woodinville.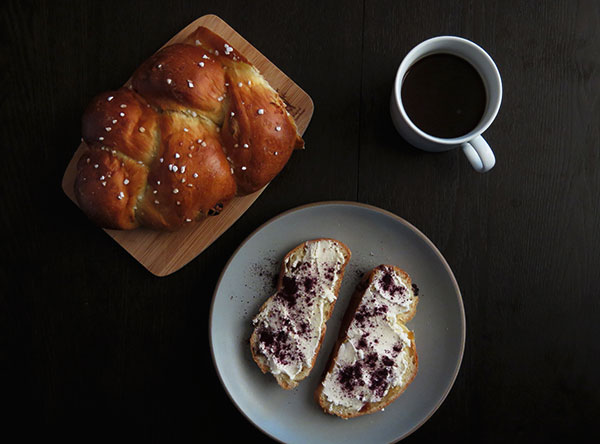 Sunday's raisin bread from Kaffeeklatsch spread with Samish Bay's Vache cheese and sprinkled with Bow Hill's blueberry powder.
I returned to the freezer and an old YouTube video for Sunday's dinner.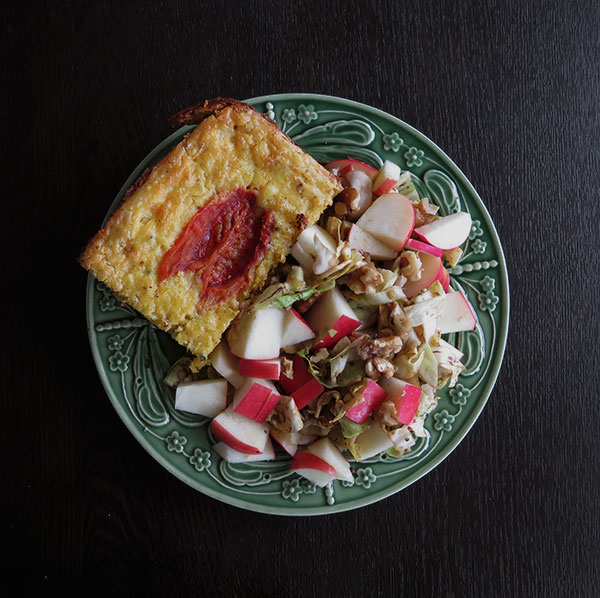 Zucchini slice made with frozen mixed summer squash, yellow onions, Beecher's Flagship cheese and frozen slow-roasted tomatoes. Served with a Castelfranco radicchio, walnut and apple salad with Rocksalmic-mustard vinaigrette.
What better way to spend a Monday holiday than with a leisurely brunch. At this point, crepes are enough of a weekend routine to feel like no work. It also helps that I don't need to waste any time reading a recipe.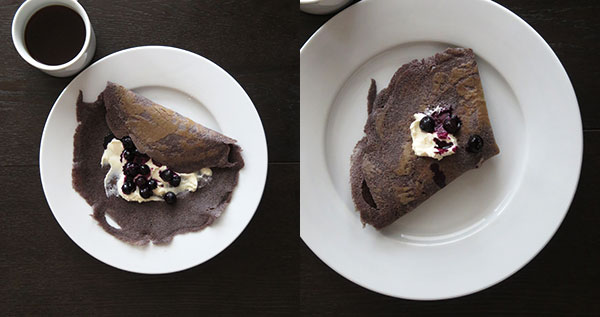 Whole wheat crepes made with 100% Einka flour and blueberry powder. Filled with Vache cheese, honey and blueberry sauce made from frozen berries. The cheese filling can be thinned with yogurt if desired, but I didn't have any.
We received smoked salmon as a gift over the holidays. We ate part of it with potatoes for a super simple dinner to end the three-day weekend.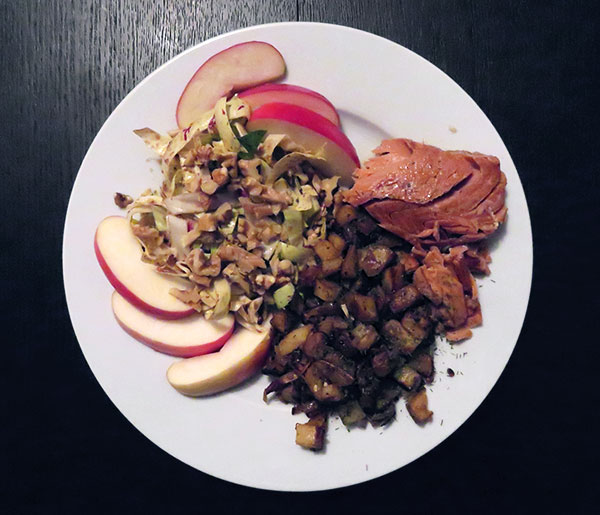 Pan-fried potatoes and onions served with smoked salmon and a radicchio, apple and walnut salad.
This is essentially the same salad as the day prior. However, I had extra honey out from breakfast so I added it to the salad dressing. Keeping the apples separate means the leftover salad holds up better for lunch the next day.
Starting the Week on an Easy Note
These weekend meals were easy to make and improvised from what we had on hand. (Or happened to have bought that weekend). But every single one of them resulted in at least one extra meal during the week.
The leftover potato curry, zucchini slice, and salad all became weekday lunches. I folded up the leftover crepes to make blueberry blintzes—a truly fast weekday breakfast that looked complicated.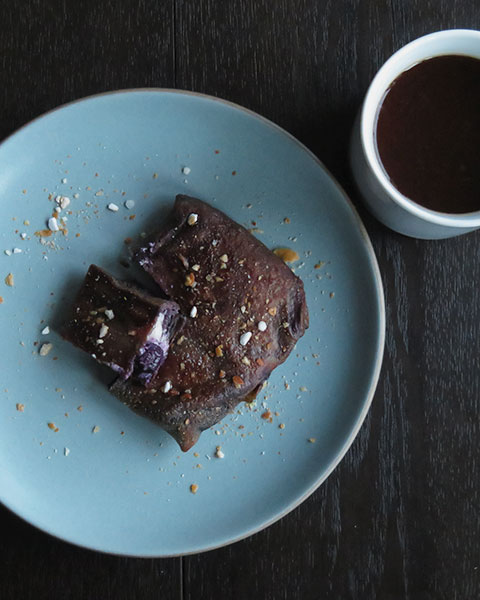 Turn leftover crepes into blueberry blintzes for a fast weekday breakfast. Fold the crepes with the filling ahead of time and pan-fry in butter to reheat. Whole wheat crepes made with 100% Einka flour and blueberry powder. Filled with Vache cheese, honey and blueberry sauce made from frozen berries.
Scrambling eggs with smoked salmon is fast. Serving with the leftover potatoes makes for another easy breakfast.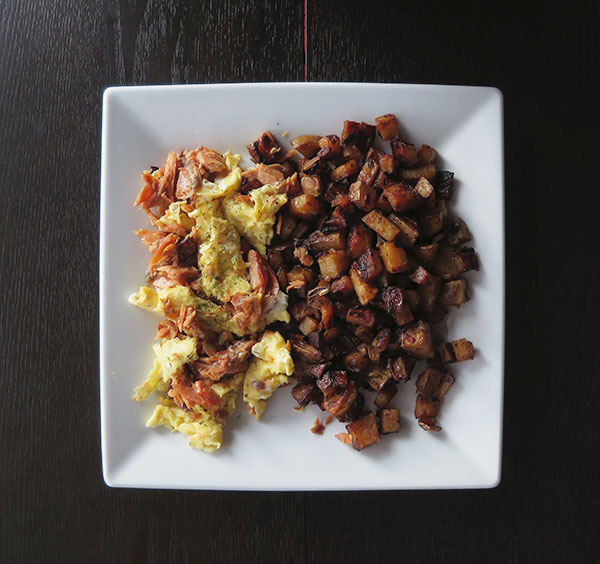 Reheat pan-fried potatoes and serve with scrambled eggs for a quick weekday breakfast. So much the better if you have smoked salmon to toss in.
But Wait, There's More
What I like best about this cooking plan is it's not limited to the weekend. Choose what to make based on the time you have, then multiply it to get an extra meal or two. Or at least a head start on the next meal. And so it continued …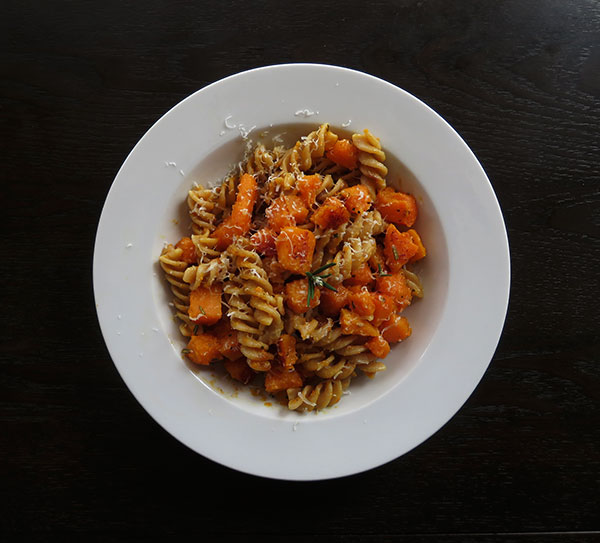 Fresh rosemary and butternut squash on fusilli pasta with parmesan cheese. Dish adapted from "Oregano & Winter Squash Pasta" in Fresh Pantry, by Amy Pennington.
Leftovers are delicious reheated or served as a pasta salad. And since I only used half the squash, the other half was prepped and ready to go for this soup the next night: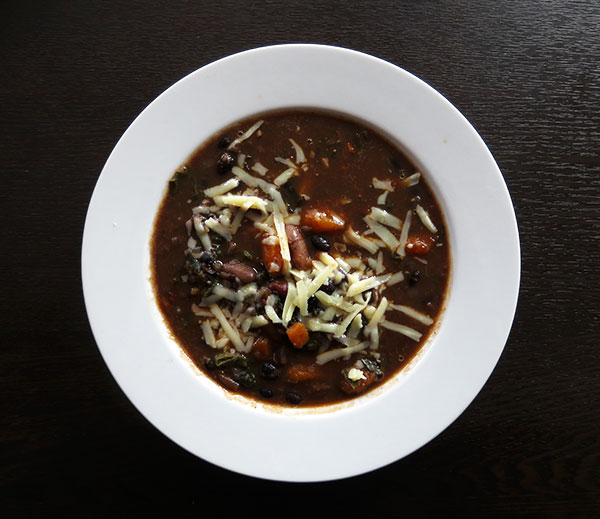 Mixed Bean Chili with Butternut Squash and Greens. Made with a mix of dried beans—black, kidney and cannellini—and garnished with Beecher's Flagship cheese.
The descriptive name tells you just about all you need to know to make your own version of this recipe. Super easy to double, triple, etc.—throw more of everything in the pot.
Fill the Gaps
Lastly, keep staples around—like eggs, frozen bread, and hot cereal mixes. Then combine them with perishable ingredients you need to use up. With a little creativity, you can eek out those last few meals you need to get you through the week.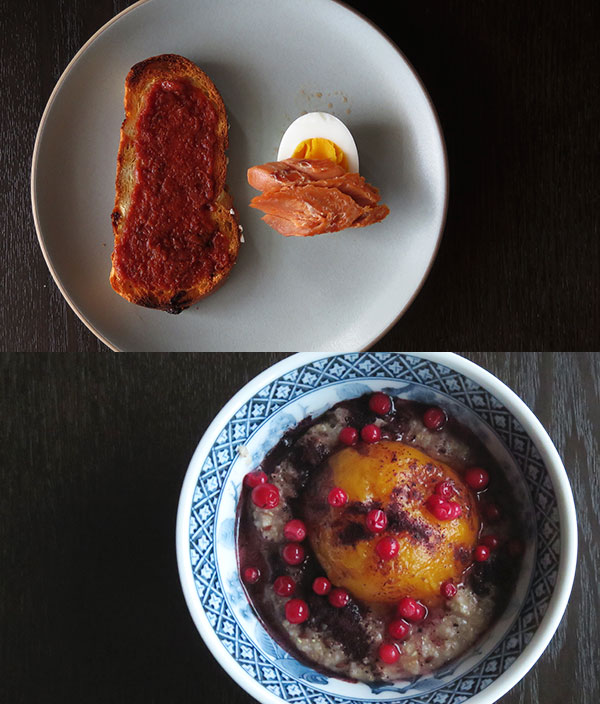 Pantry staple meals. Toast with jam and a hard-boiled egg with smoked salmon (top). Old World cereal blend topped with home-canned peaches, lingonberries and blueberry powder (bottom).
Keep sliced bread in the freezer along with frozen fruit and jam. Hot cereals and eggs are both long-keeping when stored in the fridge.
---
OKAY, I'LL ADMIT IT. THIS KIND OF COOKING MAY NOT TAKE LOTS OF TIME BUT IT DOES TAKE ORGANIZATION. WHY NOT GIVE IT A TRY? CREATE A FREE ACCOUNT WITH KITCHENLISTER.
If you'd like information about this style of weekend cooking or more details about any of these easy meals, leave me a comment.
Read more about my "Week in Review" posts.