The weeks leading up to the holidays are always busy. Even more so for us this year since we have a red-eye flight to Boston the day after Christmas. Time is short. And so this post will be as well. The weeks became a blur. I give you the highlights.
Farmers Markets
To start, here's what the local markets had to offer in December:

The selection at Seattle farmers markets in December includes dried beans and roasted peanuts from Alvarez Organic Farms (left), Olive and Herb Fougasse from Tall Grass Bakery (middle), and fruits and veggies from the Chophouse Row night market (right).
Mornings
Breakfasts ranged from two minutes …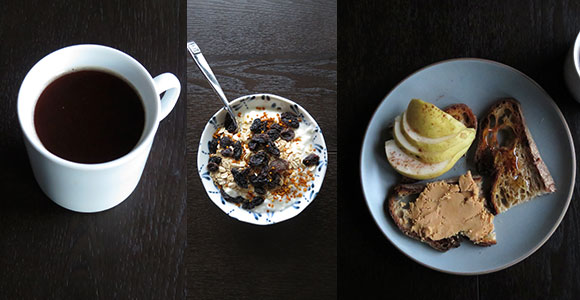 French press coffee made with beans from Victrola Coffee Roasters (left), plain yogurt topped with rolled oats, raisins and bee pollen (middle), and toasts with chestnut honey, peanut butter and fresh pears (right).
To 10 minutes …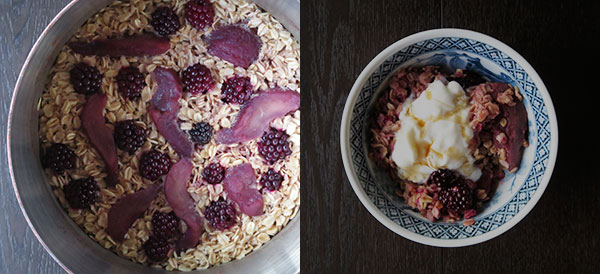 The Very Best Oatmeal from Whole-Grain Mornings cooked with blackberry wine-poached pears and frozen blackberries (aka Boozy Oatmeal, left). Don't stir after adding the fruit unless you want purple oats! Garnished with yogurt and maple syrup (right).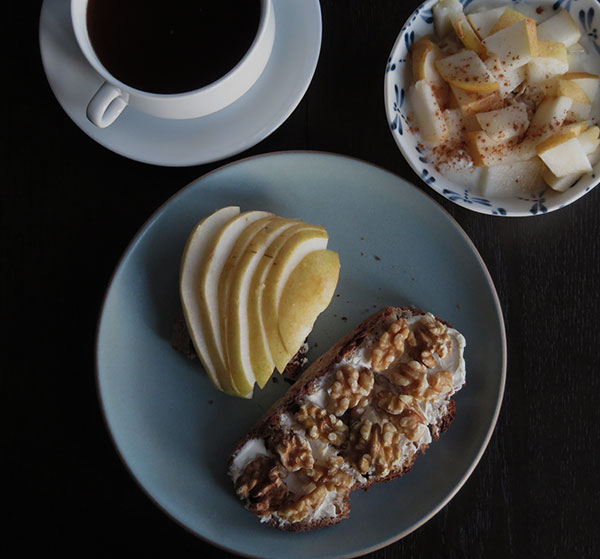 Toasts topped with cream cheese and walnuts or fresh pear slices. Served with yogurt, more pears, cinnamon and coffee.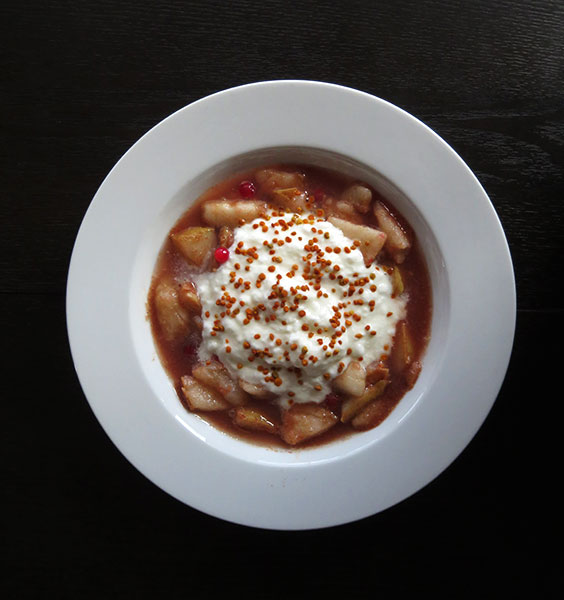 Try making a pear sauce to eat with yogurt instead of fresh pears. Add frozen berries, such as lingonberries, for interest. Garnished with bee pollen.
To, well, maybe save it for the weekend.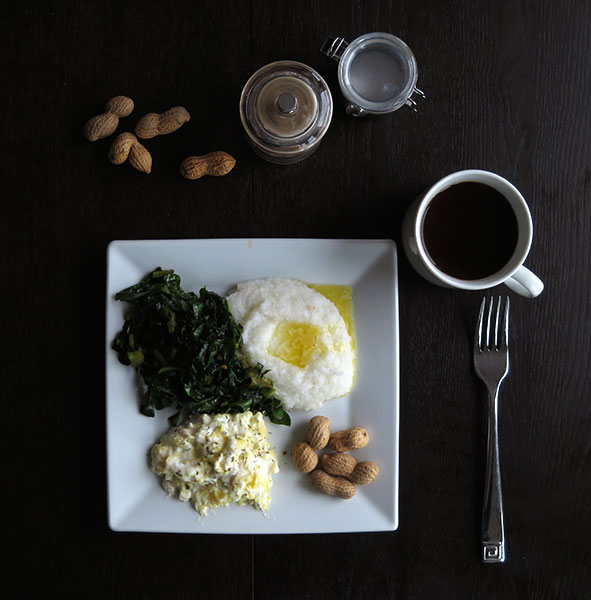 One of my favorite breakfasts ever: white corn grits, eggs and greens. Here the eggs are scrambled with ricotta. Yes, that's a dab of butter in the middle of the grits. Served with roasted peanuts from Alvarez Organic Farms and coffee.
But leftovers can still make quick work for Mondays: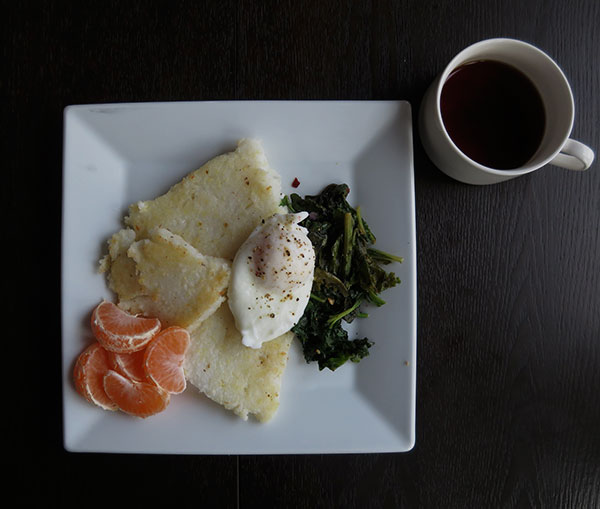 Always cook extra grits and pan-fry the leftovers in butter for a quick breakfast. Served with a poached egg, sautéed Wild & Spicy salad mix from Growing Washington, and mandarin orange segments.
Daytime
Remember all my soups from last week? Always reliable leftovers.
Leftover soups make for easy lunches or dinners. Coconut curry winter squash soup garnished with ricotta, grated carrots and chopped brazil nuts (left). Sunchoke-potato soup topped with breadcrumbs and parmesan cheese (right).
And then there's this week's soup. Remember: change up the garnishes.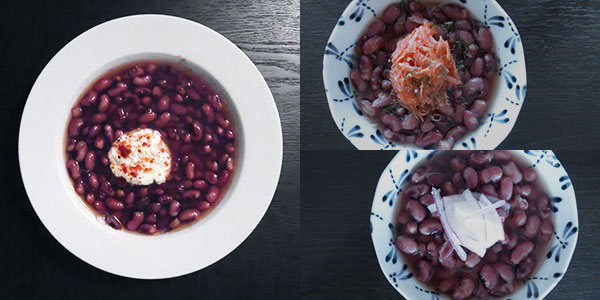 A simple bean soup never gets old when made with good-quality ingredients. Here a pot of Anasazi beans cooked from dried beans gives plenty of leftovers for the week. Garnished with ricotta cheese and paprika (left), grated quick-pickled carrots and dried dill (top right), and sour cream and quick-pickled red onion (bottom right).
Evenings
Last week I mentioned the new flavor affinity feature I'm working on for kitchenlister. I tried it out with a couple variations on one of my favorite salads: roasted beet, walnut and blue cheese. Both of these flavor combos are a nice twist for winter. By the way, I pulled a couple whole roasted beets out of the freezer, thawed and sliced them. You would never know the difference.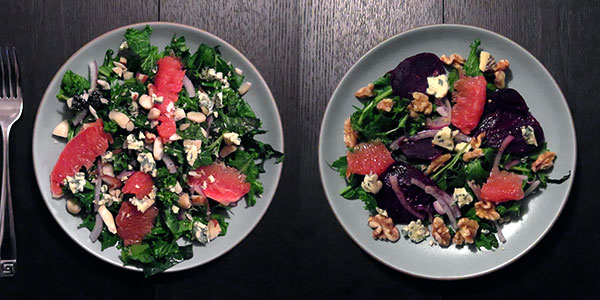 Wild and spicy salad mix in a mustard vinaigrette with ruby red grapefruit segments, sliced red onion and blue cheese. Finished the salads with chopped brazil nuts (left) and roasted beets and walnut halves (right).
After a long hiatus, I'm planning some new videos for my YouTube channel. While I'm still editing (I forgot just how long that takes …), here's a preview: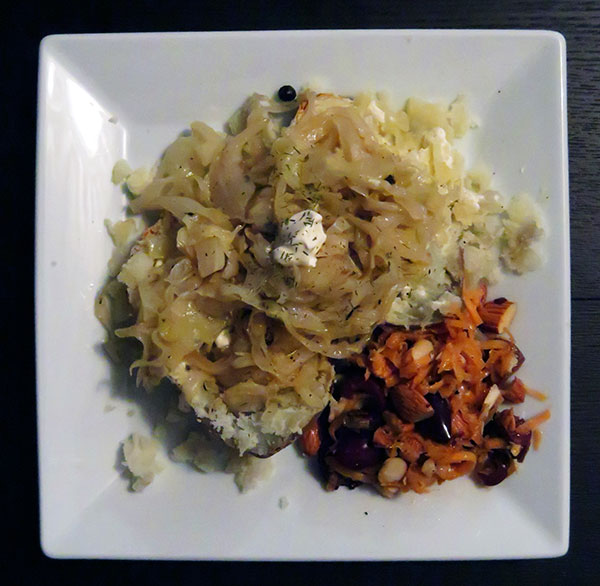 Baked potatoes topped with juniper-braised cabbage, sour cream and dried dill. Served with a grated carrot-olive salad with almonds and red pepper flakes.
Update: I'm finally done. Let me know what you think of the new format.
Learning how to cook a pot of beans will serve you well. (I'll stop short of calling it an essential life skill, but really, it kind of is.) There are few ingredients that are as inexpensive and nutritious as dried beans. Besides bean soup, Mexican-inspired creations are always well-loved: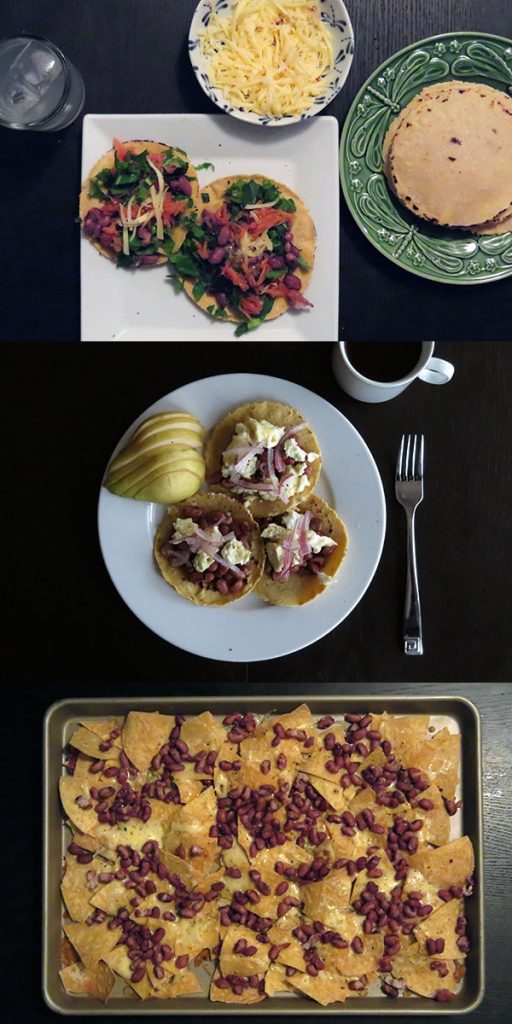 A pot of Anasazi beans makes for endless meals. Dinner: bean tacos with Pepper Jack cheese, quick-pickled carrots and salad mix (top). Breakfast: tacos with beans, scrambled eggs, ricotta cheese and quick-pickled red onions (middle). Snack: bean nachos (bottom).
And don't forget about quick snacks. You know I love cheese toasts.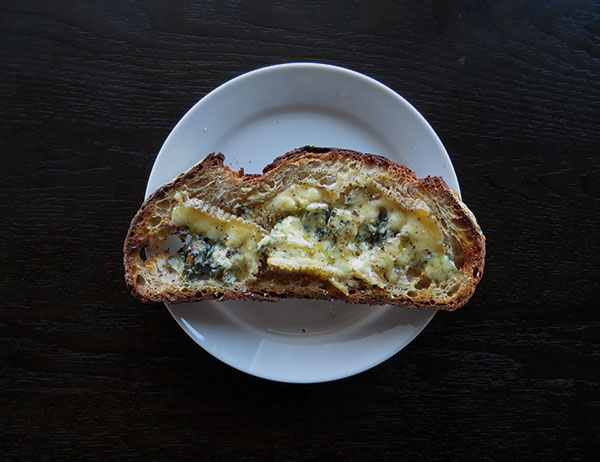 Blue cheese toast. So simple, so delicious. Spread the toast with stone-ground mustard before adding the cheese if you'd like.
Most Importantly, Dessert
It's always worth making time for baking.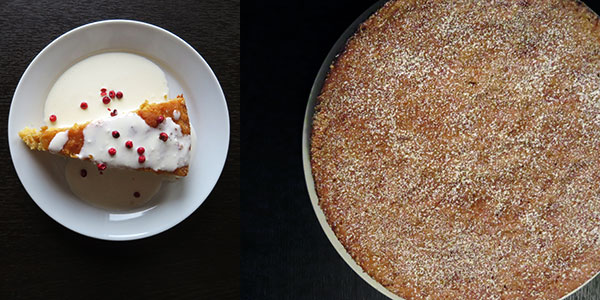 Carrot Almond Cake with Ricotta Cream from Vegetable Literacy. Dusted with powdered sugar and garnished with pink peppercorns.
And Now For An Extra Special Treat
This Meyer lemon took almost two years to grow! Obviously my gardening skills are not quite up to par.
---
THE END OF 2016 MEANS A FRESH START. IT'S NEVER TOO LATE TO MAKE HEALTHY MEALS FOR YOURSELF. KITCHENLISTER CAN HELP BUT YOU NEED TO START A FREE ACCOUNT FIRST.
If you'd like more information about any of these winter meals, leave me a comment.
Read more about my "Week in Review" posts.