Fennel in any form is uncommon to many. Fennel the vegetable is a white bulb with green fronds (both edible, by the way). Then there's fennel seeds, which are used alone or in spice blends. So maybe you're familiar with those, but have you used fennel pollen (also called fennel flowers or fennel blossoms)? And as summer comes to a close, it's important to ask if you've stocked your freezer with the last of the season's tomatoes?
Monday
A simple breakfast to start the week: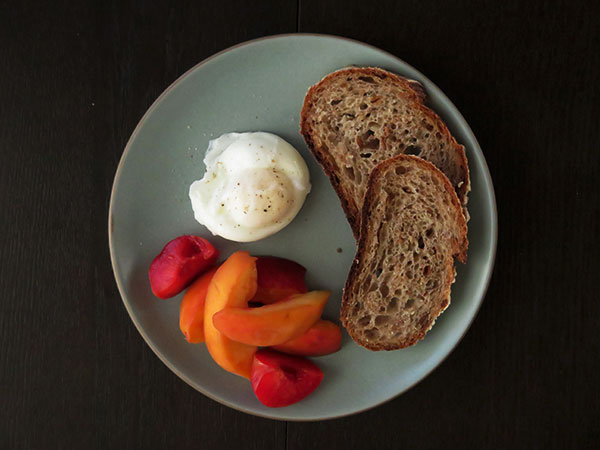 A poached egg served with Multigrain Sunflower Batard from Columbia City Bakery and fresh peaches and plums.
A meal for all seasons. Just change the fruit!
My lunch was—no shock here—leftovers from the weekend. This is Peregion bean, Italian sausage and White Russian kale soup. It's made with Walla Walla sweet onions, rainbow carrots, chicken broth, and fresh rosemary. For lunch, I garnished it with a couple slow-roasted tomatoes that escaped the freezer. Plus a completely new ingredient to me: fennel flowers. Or in this photo, the green part below the blossom but above the stem. Not sure what you'd call that exactly. I guess it would be the fennel buds devoid of blossoms?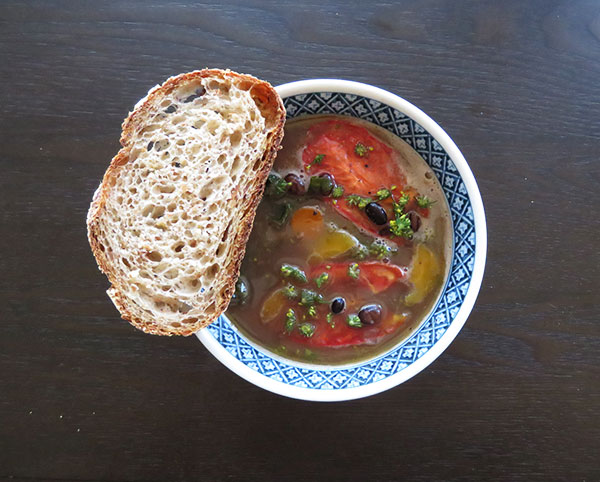 Leftover dried bean, Italian sausage, and kale soup made with chicken broth, onions, carrots and fresh rosemary. Garnished with slow-roasted plum tomatoes and fennel flowers and served with sourdough bread. Most of the ingredients were obtained from an early September Larder Share.
I had already used all the fennel pollen (i.e. the yellow part) for a special dinner with my parents on Saturday. Almost all other ingredients came from a Larder Share we bought my mom as a gift.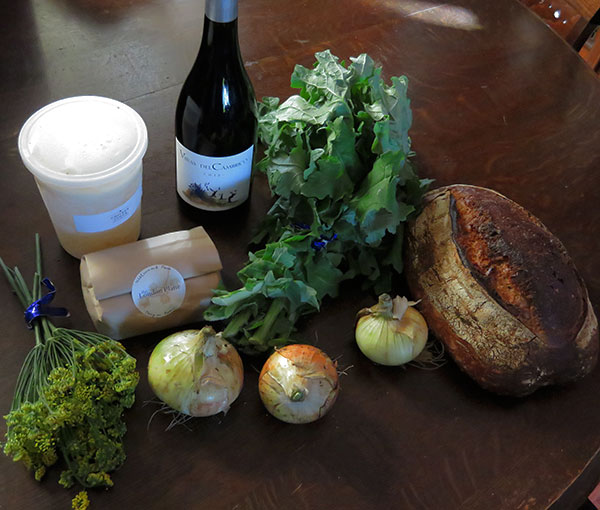 Early September Larder Share from London Plan: Peregion dried beans, White Russian kale, Walla Walla sweet onions, fennel flowers, Plane sourdough bread, housemade chicken stock, and Vinas del Cambrico 2012 red wine.
I knew my mom would be excited about the food, but less than thrilled about the prospect of cooking it herself. So my husband and I made the soup, following a recipe that was included with the ingredients. You dedicated readers who check all my posts will be surprised that I followed the recipe. (Well, other than the part about soaking the beans. My post on THAT to come soon.)
Not to detour too much as I now realize I am somehow still talking about Monday's lunch (?!) but a few points of interest:
The Larder Share is expensive—almost twice the cost of my family size CSA box. (Recall I get a weekly pasta, cheese, and yogurt share on top of the basic—but largest—produce share. All this delicious food costs extra, but still a little less than one Larder Share.) The London Plane offers the Larder Share as a one-time order or seasonal subscription. I believe it always includes a bottle of wine and a loaf of the most amazing bread. The mix of seasonal produce and house-made products rotates each week. I don't live near the London Plane (keep in mind, by near, I mean an easily walkable distance). But, I am well acquainted with another restaurant by the same owner: Sitka & Spruce. It is hands-down my favorite place in Seattle for brunch.

While extravagant for a weekly purchase, the Larder Share makes a fun and unique gift. Even better, if you can find a way to partake of the bounty yourself! I'm an avid buyer of esoteric ingredients and began shopping at local farmers markets early on. So I was impressed to find ingredients I was unfamiliar with. Not only fennel pollen, but the heirloom dried beans were also new to me.

In case fennel flowers are also new to you, here are some tips. The included recipes suggested we try them in savory and sweet dishes. So we garnished the soup and I also added them to the custard dessert I made along with ground cardamom. The dessert reminded me of one I had a long time ago. Fennel-infused panna cotta garnished with paper-thin slices of sugared fennel bulb. For the dinner, I only used the yellow blossoms. After tasting the green "heads", I saved those for garnishing the leftovers.
Sometimes the fruit from my CSA box ripens over the course of the week, and I can gradually dole out each piece. Pears are a good example of this. But other times, everything's ripe at once. Like my peaches this week. That's okay though! Fresh fruit is a healthy snack and in a few weeks, I'm going to wish I could eat fresh peaches three times in one day.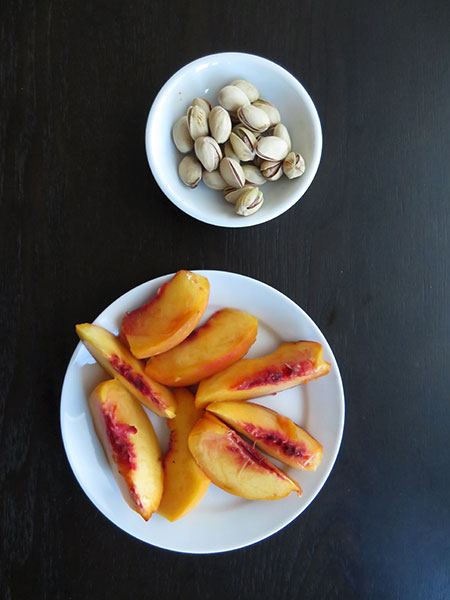 Always a healthy snack: fruit and nuts! Here, a fresh sliced peach and roasted pistachio nuts in the shell. Perfect for late summer.
Monday's Dinner, Finally
Tonight I tried a recipe I've been wanting to make for years. Literally. I used to have a subscription to Food & Wine, mostly because it was so cheap. But in my small home, I got tired of collecting magazines that are half advertisements. So I eventually canceled it. Of course, I had clipped the recipe out at the time and stored it in my super organized folder of recipes. Meaning I had no idea where it was. But I remembered the key elements—the green tops of leeks—and that it was by the only recipe developer for Food & Wine I actually remember, Grace Parisi. So now I'm excited to share this gem from 2008 with you.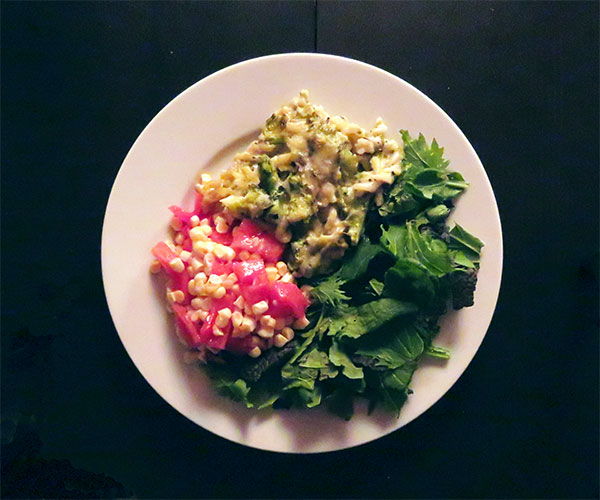 Leek Mac and Cheese made with whole milk only (no cream) and Beecher's No Woman cheese. Also substituted broccoli for half the pasta. Served with two salads: (1) raw corn and tomato and (2) wild and spicy salad mix from Growing Washington.
A few notes about my changes and tips for success:
You often hear that good mac and cheese needs lots of different cheeses. Actually, one is enough IF you use a flavorful cheese. This recipe suggests Manchego. I used Beecher's No Woman cheese as I think smoked cheeses work particularly well in dishes like this.

Mac and cheese makes for an indulgent meal. Half-and-half is utterly unnecessary; whole milk will make it plenty creamy. Another way to make mac and cheese healthier? I substituted half the pasta for broccoli. The extra vegetables make a more interesting dish. The extra work is minimal. I cut a whole head into pieces and added the broccoli to the cooking pasta when it had about 8 minutes left.

Although not intentional, I almost scorched the leek greens. The more I cook, the more likely I am to cook vegetables over high heat (or at least start them on high). I'm finding they turn out more flavorful and it's faster. One caveat here. You don't need to stand over the stove constantly. But if you're someone who likes to turn the stove on and then sit down for 15 minutes, do NOT try this method.
This macaroni and cheese recipe makes a large amount. I figured I'd have some to freeze. I was wrong because we ate it for lunch all week and never tired of it. I would cook leek greens like this again for all sorts of dishes. And I did here.
Tuesday
This morning I finally got on board with the savory yogurt trend for the first time. This simple breakfast used the leftover corn and tomato salad from the night before. I added a drizzle of olive oil, a small handful of sunflower seeds and the last of the fennel blossom greens.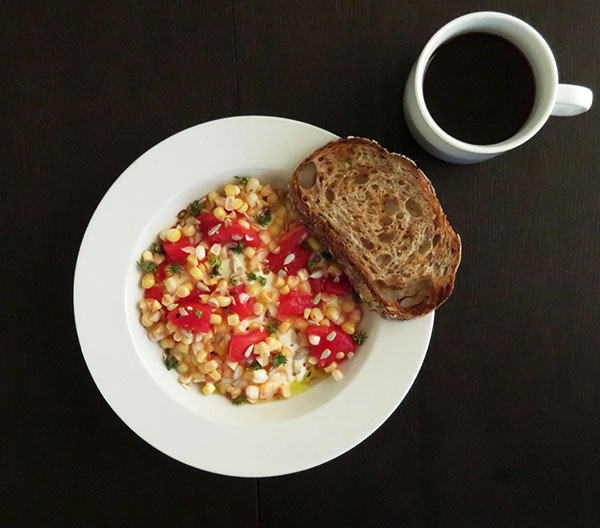 Make your breakfast yogurt savory instead of sweet. Here topped with leftover raw corn and tomato salad, olive oil, sunflower seeds, and fennel buds. Served with multigrain bread and coffee.
To show you our level of commitment here at kitchenlister, I let my husband do the cooking tonight. (Yeah, sacrifices…) With what will be the last fresh shelling beans of the year, Matt tested the cranberry bean soup recipe I shared recently. Unfortunately, we decided this before Matt found himself in a 3-hour meeting that started at 5 PM. (Just one more reason why I don't plan meals!) So I did some of the prep work. I shelled the beans, cut the corn off the cob, and thawed the mirepoix that we used instead of carrots and celery. In any case, he started cooking dinner around 8:15 PM and we were eating by 9.
Not ideal, but I have good news to report. The recipe was doable and the dish was tasty with his variations. The mirepoix was from the freezer. (What's mirepoix? Cooked carrots, celery and onions. Ours also had the non-traditional addition of carrot tops.) Matt also used slow-roasted tomatoes and fennel fronds instead of fresh tomatoes and basil. I would have been perfectly happy to eat the same recipe again exactly as I wrote it. This variation was a result of using what we had on hand, rather than intentionally changing the dish.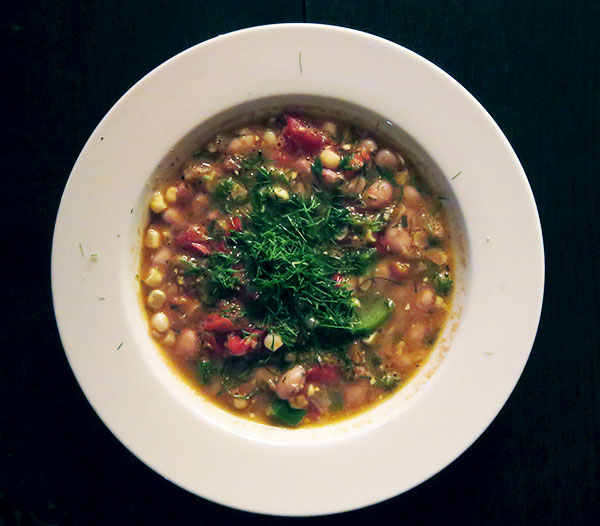 Variation on Late Summer Bean and Vegetable Soup made with mirepoix, slow-roasted tomatoes, and fennel fronds.
Wednesday
Breakfast was hot cereal—what we all commonly refer to as oatmeal. See what you're missing here.
As you know by now, Wednesday night is fish night in our house. Today I got rockfish in my CSF. Other than the fish, this meal consisted of leftovers. Recall last Friday's polenta. We pan-fried pieces of it in a skillet. Then, we served it with roasted rockfish and tomatoes sprinkled with za'atar. To be clear, we roasted the fish and previously slow-roasted tomatoes together. Yes, that is essentially twice-roasted tomatoes. But the fish cooks quickly at high heat so the second roasting is not long.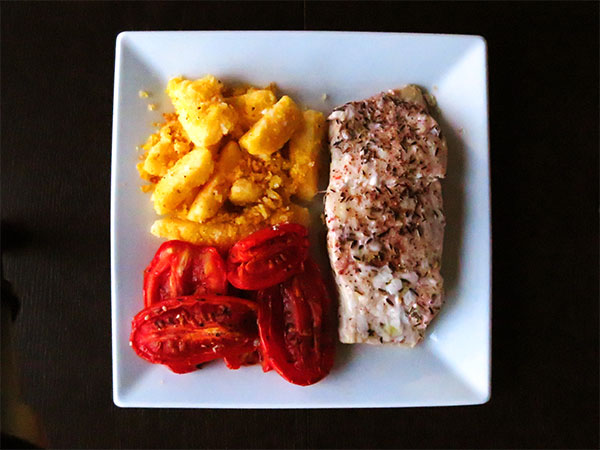 Rockfish from BestCatch sprinkled with za'atar seasoning and high-heat roasted with already slow-roasted plum tomatoes. Served with pan-fried leftover oven-baked polenta.
As I keep mentioning them, you may be wondering where I got all these slow-roasted tomatoes. Most of what I preserve from summer is accidental. Have some fruit or veggies I can't use up? Throw them in the freezer. Tomatoes are the one exception. Among the many benefits of being a CSA member, I have the opportunity to order bulk produce. For the last couple years, that means tomato seconds for a great price. These are organic tomatoes picked at their peak. While I have tried canning and freezing marinara, salsa, and soup in the past, at this point, I only do two things:
Freeze whole tomatoes. I haven't bought fresh tomatoes out of season in many years, but now I no longer buy canned tomatoes either. Frozen tomatoes work anytime you'd use canned ones. I make soup and sauce from the frozen tomatoes as I need it.

Slow-roast tomatoes and then freeze them. This is simple to do. Cut tomatoes in half, add olive oil, salt and pepper and roast at 200 degrees, cut side up, on sheet pans for 2 hours. In February, a few of these tomatoes heated in the oven until warm and placed on bread is so simple and delicious.
So why would I be eating these tomatoes now? I had a few that wouldn't fit in my freezer bags. Plus it's always rewarding to get a little sample of your efforts. Ultimately, though, it comes down to willpower. I love summer tomatoes so much, I couldn't resist.
Thursday
We ate the last of the polenta (pan-fried again) for breakfast. I served it with heirloom tomato slices, 8-minute hard-boiled eggs, and coffee.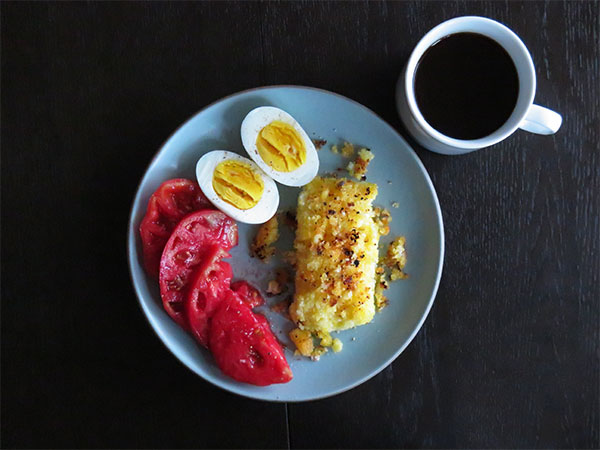 Leftover oven-baked polenta pan-fried for breakfast and served with whole eggs boiled for 8 minutes, fresh heirloom tomatoes and French press coffee.
Out of rolled oats and no time left for chia pudding? Just sprinkle some chia seeds on top of your yogurt. I topped it with Concorde pears and cinnamon for an easy and delicious snack.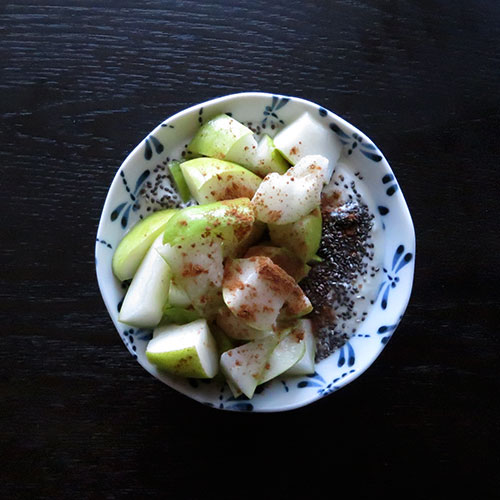 Simple, healthy and delicious snack for fall: plain yogurt topped with chia seeds, fresh pears and ground cinnamon.
I had no plan for dinner as I was unloading my CSA box, but looking at everything, it became obvious. I also had one green bell pepper and one heirloom tomato left to use up. Combining those in a pasta with yellow snap beans, basil and fresh ricotta was a natural. The goal was simply to create a meal from whatever needed to be used. I combined stragglers from the prior week with the most perishable items from my new box. And it created a beautiful, healthy and tasty meal.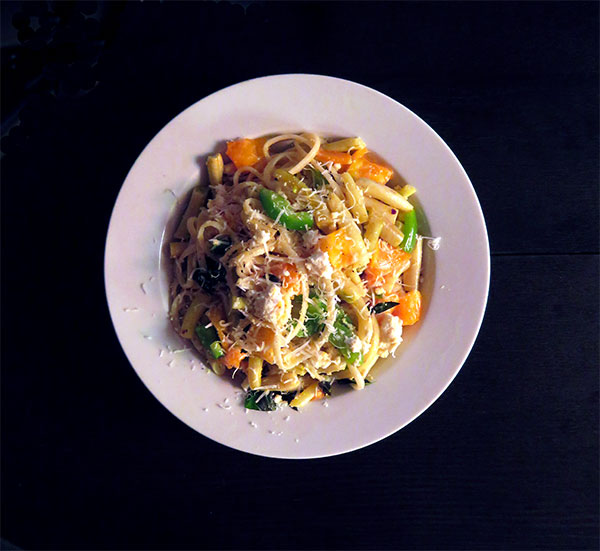 Peak of the season pasta with vegetables made with fresh linguine, heirloom tomatoes, yellow snap beans, green bell peppers, fresh basil, and fresh ricotta cheese. Garnished with freshly grated Parmigiano-Reggiano.
I don't buy milk often so I make the most of it when I do. I have to use it quickly because it's low-temperature pasturized. Thus, it doesn't have the shelf-life of conventional milk. But this means I make the most of every cup, often using some of it to make a dessert.
Tonight it was old-fashioned cup custards