I started the kitchenlister blog almost a month ago and I'm excited to already be writing this tenth post about meal plans! Thinking about it, I realized this blog was intended to be about cooking AND starting a business. I definitely have more pearls of wisdom to share about cooking. I'm hoping you can share your own thoughts (Please! Help me!) about my business dilemmas. It makes sense to me that most posts are about food, but for this post, finally I want to talk about kitchenlister.
When surveyed, most of our users have answered that they need healthy dinner ideas. So I thought, "Well, great! That's what we're doing with quick and easy recipes." The recipes view should give users plenty of healthy meal ideas. I mean, it does for me!
As I thought about it further though, I realized something that makes me different. I have a lot more ingredients in my kitchen than most. Why? Because I cook every day. Yet many of our users—indeed, I believe, many people—do not. Presumably our users are trying to cook more often, but they haven't built the daily habit yet. So they don't have as many ingredients. Furthermore, what they do have probably doesn't change a whole lot. All this is to say, the average kitchenlister user is not seeing much variety in their recipe results.
Hence, meal plans. Some users have told me they'd like to see this feature added. Plus I know entire businesses based solely on meal plans exist. It seemed like a good idea, but I shied away for a couple reasons:
It goes against the cooking philosophy I'm trying to instill in our users. That convenience comes from flexibility (and, I'll admit, experience). Meal plans have always felt like the opposite of flexible to me.

Every time we consider a new feature or modification, I hesitate to add things I won't use myself. I know I'm not supposed to do that. I AM NOT THE USER. (A mantra I try to repeat often.) But the thing is, I am, and so it gives me pause. (The other side is I guess I DO use the meal plan because my first blog post included recipes from it. So maybe I don't know what I want.)

Speaking of not knowing what I want, a common refrain is that customers don't know what they want either. It's too easy to think we know the solution without defining the problem for ourselves.
In any case, kitchenlister is a tiny business which means, if nothing else, we're fluid. I started offering twice monthly meal plans in August. They are free for all users; all you need is an account. New features always take a while to catch on. Still, I'm not seeing the outcome I expected, especially given the low barrier to use.
So I ask you, do you need meal plans? Or, do you simply need more skills and knowledge in the kitchen?*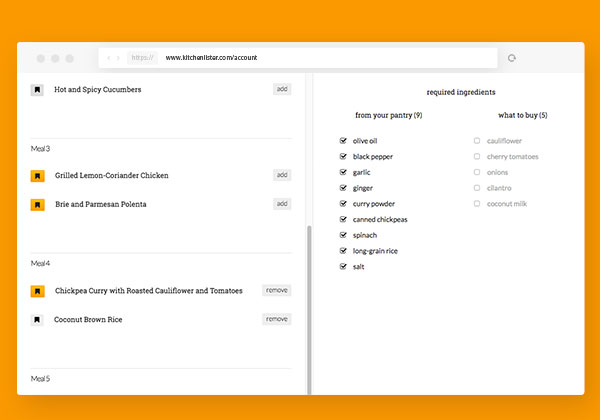 Meal plan view in kitchenlister recipe finder and pantry inventory website. This view shows the recipes available for the week (left) and the required ingredients (right). Ingredients are divided into two lists: "from your pantry" and "what to buy".
---
*Time is certainly a factor in just about everything we do. That said, it's blamed way too often as an excuse for things we don't actually want to do. Daily, Americans spend more than five hours watching TV but less than 30 minutes cooking. It's all a matter of priorities.
I'd love for you to share what you think about meal plans in the comments below. As extra incentive, email me at kitchenlister@gmail.com referencing your comment. I will send you a discount code for 20% off an annual membership. No expiration date and valid for new accounts, upgrades or renewals.
DON'T HAVE ANY OPINION ABOUT MEAL PLANS? JUST INTERESTED IN CHECKING OUT KITCHENLISTER? START A FREE ACCOUNT.